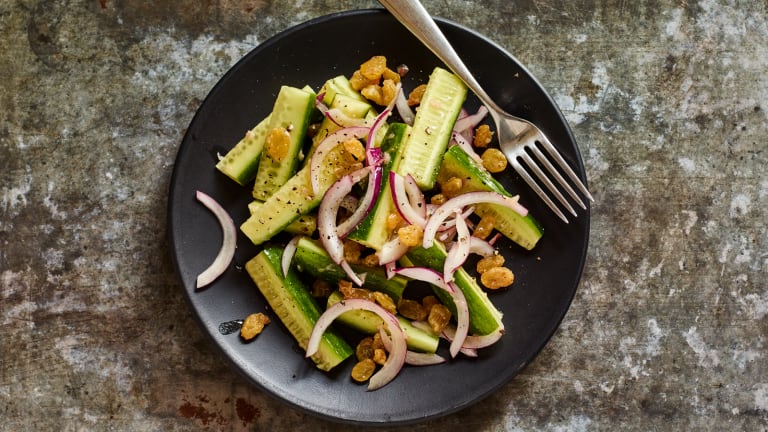 Queen Esther Could Have Been Plant Based, Right?
Who is to say whether or not the banquet Queen Esther planned for the King didn't include some plant-based dishes? There is talk about her vegetarian stance in the palace and just maybe her switch to eating more fruits, vegetables, tubers, legumes, and whole grains impacted how she felt in her body and in the world.
Eating plant-based food might have
Stabilized her mood and energy levels throughout the day.
Given her a taste of her own courage - showing her that she had the capacity to step outside of the mainstream (it is hard not to eat what everyone else is eating).
Maybe she even lost a few extra pounds that she had been carrying in the palace.
Back to the feast, she might have tried to serve less meat because she was concerned about the King's cholesterol level, right?
Maybe she served a Creamy Carrot Bisque with a cooling Persian Cucumber Salad. 
I find the story of Queen Esther's vegetarianism compelling and inspiring.
According to tradition, Esther became a vegetarian when she moved into the king's palace. She ate only seeds and legumes in order to avoid eating foods that were not kosher. 
For Purim, there are so many opportunities to highlight plant based foods in honor of this story and in honor of our own health.
The Meal
Besides traditions of serving Ashkenazi Hamantashen and/or the Sephardi fried pastries, the food that you serve is up to you.  I know that in reality, all the food we serve on Jewish holidays is up to us, it is just that some holidays have more of a script. The Purim meal is more free form so why not experiment with including at least one plant based dish?
Shalach Manot
Mishloach manot is an opportunity to share healthy food (homemade and store-bought) with people you love while supporting ethical companies who make food products you care about.  If you're trying to help the people in your life make healthier choices this is another way to show it.  You can honor the spirit of Mishloach Manot while sharing healthy, beautiful and delicious food like all the ideas in these 5 Easy Israeli Mishloach Manot. 
What are you making for your Purim feast.  I'd love to hear in the comments!