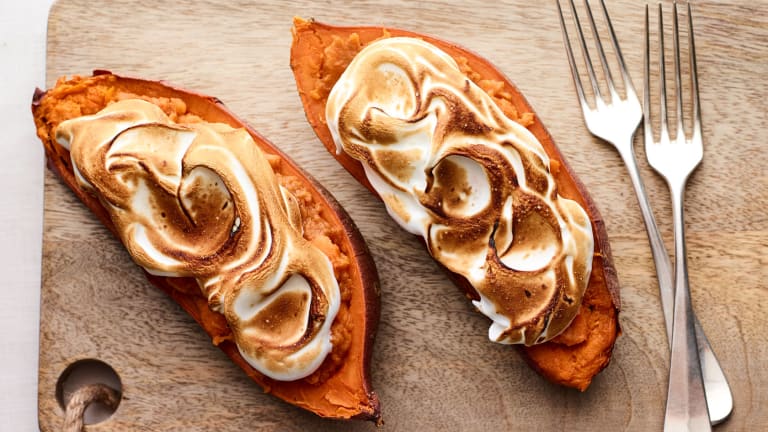 The Sweet Potato Casserole Gets a Makeover
People always wonder which recipes get the most traffic. We in the test kitchen collectively bang our heads together and/or against the counters, the fridge, the pots, the pans trying to come up with new, New NEW! dishes for YOU. But always and forever it's the classics that get the most interest.
For Thanksgiving it's no different. One of our most popular Turkey Day sides is this traditional Sweet Potato Casserole with Marshmallow Topping.
But because we have to justify our existence Chef Laura and I can't help ourselves we just had to give you new sweet pot sides, sweet and savory, for Thanksgiving and beyond.
DOUBLE STUFFED SWEET POTATOES WITH TOASTED MARSHMALLOW TOPPING
Don't freak over the make your own marshmallow topping. There are great ready made kosher marshmallows these days to cut your kitchen time down a ton.
ANCHO CHILE SPICED SWEET POTATOES
Cause I love a little rich and flavorful, smoky and sweetly spiced ancho with my sweet pots.
Shifra is a genius for adding a little chocolate to these marshmallow sweet potato treats.
MAPLE ROASTED SWEET POTATO WEDGES
These are sorta like a deconstructed sweet potato casserole, without the marshmallows.
TEX-MEX SWEET POTATO AND CORN KUGEL
Let's face it. A sweet potato casserole is just a veggie kugel. We just amped up the veggies in this one with shreds of sweets to give it that "noodley" texture.
THE TRADITIONAL SWEET POTATO CASSEROLE
And of course the tradish. Complete with toasty marshmallow topping.
Show and tell time. Hit me with your sweet potato sides in the comments below.