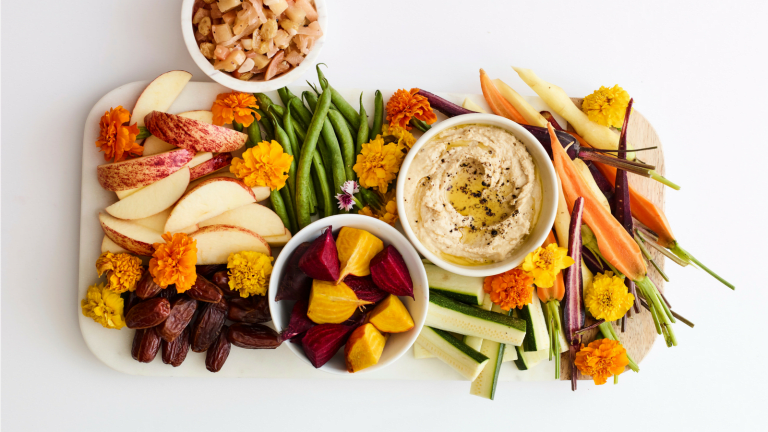 What are Rosh Hashanah Simanim and What Other Customs Do We Follow?
Now known as the Rosh Hashanah seder, the seder is a "program" run through at the start of a Rosh Hashanah meal, where we partake of a series of symbolic foods (the simanim) each followed by a specific blessing.
Simanim – literally means signs or indicators – that are meant to point the way to improved circumstances.
Some of the most popular foods that are simanim include fish, honey, spinach, carrots, cabbage, pomegranate, apples, leeks and dates.  
MORE: 4 Simanim Inspired Traditional Rosh Hashanah Menus
Observant Jews take this quite seriously, preceding their consumption of these foods on Rosh Hashanah with a specific, heartfelt prayer connected to the character of the food. 
For example, because a pomegranate is full of seeds, many people eat a pomegranate after saying, "May it be Your will, Hashem, our G-d and G-d of our forefathers, that our merits increase as [the seeds of] a pomegranate." 
 In other words, we'd like to maximize the "merits" (engendered by doing mitzvot) on our personal tally sheets. And what that really means is that we want to be worthy of G-d's abundant blessings – and this necessitates focusing our minds on how to make ourselves worthy. 
 Likewise, if you want to build a nice Jewish family, express that desire by eating fish after saying, "May it be your will Hashem, our G-d and G-d of our forefathers, that we be fruitful and multiply like fish."
MORE: My Favorite Rosh Hashanah Menu
Some of the most fascinating simanim are based on word play. A generation ago, Jews in the Ukraine fed their children chicken livers on Rosh Hashanah because the Yiddish word for livers, leberlach is homophonous with leb ehrlich, "live honestly." 
Typically Jewish, isn't it? Even a kiddie snack is a lesson in ethics!
Another tradition is to eat something "new," something you haven't eaten all year. For many of us, that means searching through the exotic fruit department to bring home kumquats, star fruit, or some other rarity. But it's not just the thrill of a new taste or texture. The object is to say the blessing Shehechiyanu, taking the time to thank G-d for keeping us alive and well enough to have this experience. Moreover, the very fact that we've sought out something new represents our deep-down desire to reinvent ourselves, to make ourselves better people in the coming year. Look at how Judaism elevates a squishy bite to a token of commitment!
GET A PRINTABLE SIMANIM GUIDE HERE
Colorful food customs like these come from every corner of the Diaspora, and I will give you a number of recipes that hearken back to those traditions. You'll find that that as you set each of these special dishes on the table, the social dinner chatter will cease and a stimulating conversation will likely emerge. All of your prep work will have paid off, and you can present these foods to your family secure that you are providing them with physical and spiritual nourishment. What a delectable way to energize new beginnings!
Don't miss these 33 Simanim Inspired Recipes to choose for your meal. Also, read this to find why many don't eat nuts on Rosh Hashanah. On the second night of Rosh Hashanah there is a custom to eat new fruits, learn more and get 8 new fruits to eat this Rosh Hashanah.