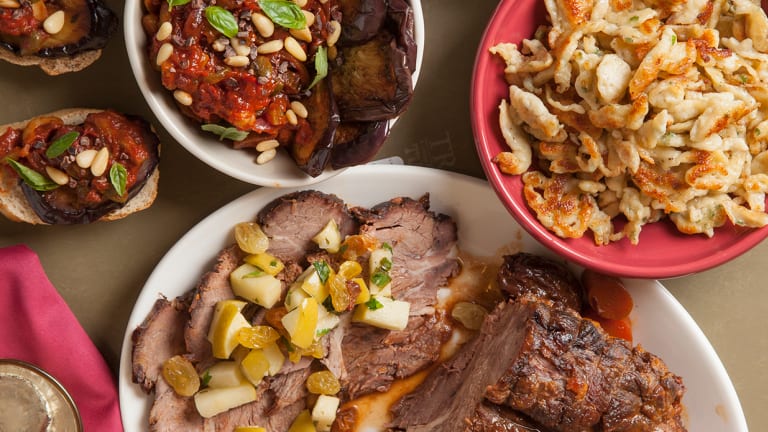 Wow Your Family With This Gourmet New Year Menu
I love High Holiday season! 
Everyone is hopeful and excited. New clothes and shoes for the kids and for me too. Yummy chicken soup and hot comforting brisket. Warm days with cool, crisp nights.
But this year, let's rethink that whole chicken soup and brisket thing, I feel no obligation to make the "standard" holiday menu.  This menu is a little out of the usual and maybe a tad over the top, but it's worth it to start the new year off with a gourmet bang.
If you can get good sweet fresh corn, buy it fresh and use it for this delicious soup. It is velvety with pops of texture from the corn kernels, mushrooms and popcorn. Mushrooms and corn are a match made in culinary heaven. The sweet corn melds perfectly with complex earthy mushrooms. I like to further ramp up that match by drizzling truffle oil into my soup and on my popcorn garnish.
The soup can be made several days ahead of serving and can be stored, covered, in the refrigerator. 
My version of the popular agro-dolce (sweet and sour) dish is not the popular tomatoey concoction often seen in restaurants and cook- books. I use a more authentic Sicilian approach by adding unsweetened chocolate and cinnamon. My husband's family is part Sicilian and they use a lot of cinnamon and chocolate in unexpected ways. The final result is a dish that is complex and richly flavored with notes of cocoa and a sour tang. 
Caponata can be made up to 2 days ahead before serving and can be stored in the refrigerator. Garnish the dish just before serving to keep the basil fresh. Like tomatoes and most other fruits and vegetables, eggplant is best during the late summer. The fruit (yes, eggplant is a fruit) tastes best and has a better texture without the bitterness. I like the petite slices I get from Japanese or Chinese eggplant, but the larger purple eggplant will work as well.
BRAISED POT ROAST WITH PRUNES, ANCHOS, RAISINS AND APPLES
Instead of brisket try a pot roast, but don't worry I still went with some sweet flavors. 
This herb salad makes the perfect complement to the braised pot roast. 
Spaetzle, a German handmade pasta-type dumpling, may seem intimidating, but all it takes is just a few minutes to stir together and the rest is a snap.
 Want stories like this delivered right to your inbox? Sign up now for our *free* JOY of KOSHER Newsletter.