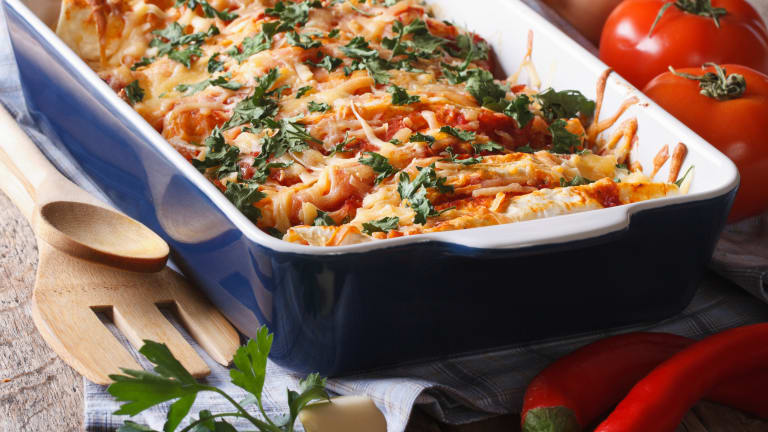 No Meat Casseroles to Make Tonight for an Easy Weeknight Dinner That Everyone Loves
The word "casserole" can make food sound so humdrum and old fashioned. People under a certain age and hip professional marketing experts may tell you that the very word— casserole— doesn't "sell," that it's so "20th century grandma."
But I can tell you this much – an actual casserole can be your best friend when you're busy or tired and need to pop a make-ahead dinner in the oven. A casserole may be hokey, but it is also homey, comforting, nourishing, easy, and exactly what you want, often, when you need a good dinner, any time of year.
Not all casseroles are freezer-friendly, but blessed are the ones that are. I always have at least 2 stored away. Most are either dairy or include fish, because I have found that the best casseroles are the ones with cheese, the tie that binds everything together, makes the dish look comforting, and melts into soft, thick and gooey deliciousness. Casseroles also usually have a starch, like pasta or egg noodles. 
All three of the casseroles are suitable for freezing, up to 3 months.
MORE: What's in a Casserole?
This Mexican Casserole is a family favorite, not just for dinner, but also for dairy buffets: Break-the-Fast for example. Recently I cut a Mexican Casserole into smaller pieces and served it for hors d'ouevre. It's really very handy!
WATCH: How to Make Spinach Noodle Kugel
My Veggie Cheese Casserole began as a usual Jewish-style noodle kugel, but I loaded it with add-ons: mushrooms, carrots, spinach (but you could include cooked, cut up vegetables of your choosing). This one is wonderful for a vegetarian or dairy dinner and also makes a good lunchbox item for kids.    
MORE: Freezer Stock Up: Complete Meals to Make in Advance  
CHEESE AND PEAS TUNA NOODLE CASSEROLE
This Cheese and Peas Tuna Noodle Casserole is rich comfort food with egg noodles, tuna, and peas. I don't like using canned soup as sauce, so I've provided a from-scratch version that is easy to make. This dish is also very versatile. If you don't like tuna, make it with cooked or canned salmon or any other fish. Or replace the fish with cooked vegetables. Add other vegetables too, if it suits your palate.    
Want stories like this delivered right to your inbox? Sign up now for our *free* JOY of KOSHER Newsletter.