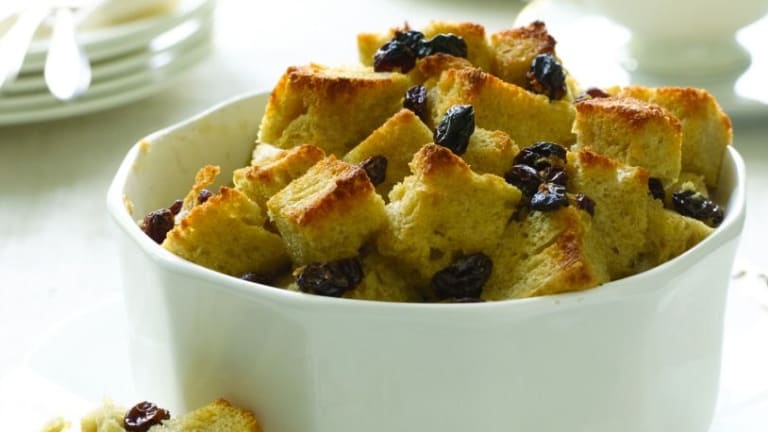 Comfort Comes In Many Forms
In the Winter time no matter what the weather, we all enjoy some comfort.  So many foods make me feel comforted, whether for the memories associated or the flavors they provide, here are my favorite comforting foods.  What are yours?
SWEET:
Individual Baked Challah French Toast with Caramelized Bananas
I often make this Individual Baked Challah French Toast family style in my beautiful blue oven to table casserole dish. I am just jonesing for a brunch party so I can bake this baby up.
For another version of sweet challah goodness try my Rum Raisin Bread Pudding, a lightly boozy option when you're in the mood. 
SOUP:
Warm the tummy, warm the soul. I now live in a house of stone and in the winter there's a chill that's hard to shake without my space heater, some fuzzy slippers and some real goooood soup. This Italian Vegetable Soup + Cheese Bread is ready in minutes.
And when some serious comfort is in order I simmer a pot of Unstuffed Cabbage Soup, it's an oldie, but a goodie. 
"SANDWICH":
Sometimes you just want a bite of a burger in a bun. My Classic Beef Burger is good enough to speak for itself.
For something with a little more bling this BBQ Beef Burger with Quick Pickles will spice things up.
SAVORY:
Chicken Pot Pie with Herbed Drop Biscuits
And if it's a winter one pot meal you are after my Chicken Pot Pie with Herbed Drop Biscuits is a family wonder of wonders.
Same goes for my this healthy alternative for a Skillet Shepherd's Pie requires not much more than a spoon to scoop and serve and satiate, family style.
Stay warm, stay safe, stay cozy. Cook and be comforted.