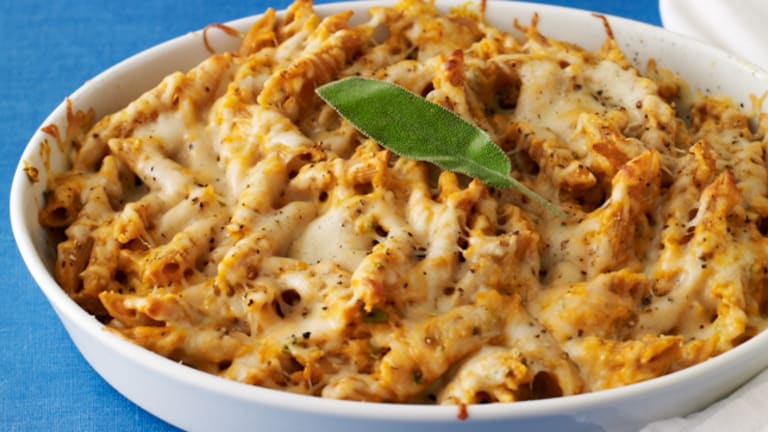 Everything's Coming Up Pumpkin
Americans have a love affair with pumpkin. You can watch a person's eyes as they get misty at the idea of: pumpkin pie, pumpkin soup, curried pumpkin pumpkin squares, pumpkin bread, pumpkin beer, crisp and salty pumpkin seeds, pumpkin lattes, pumpkin soap, pumpkin scented candles and all things pumpkin.
Some say it is the spices that are what makes us crave Everything Pumpkin. And some say nostalgia for fall, crisp days, sweatshirts and packing everyone into the car for a day at the pumpkin patch is what drives our love of the orange, hard-shell fruit. YES FRUIT! Pumpkins are the edible mature ovary of the flowering plant. Not all fruits are sweet, though some varieties of pumpkin are sweeter than others. Whatever your reason for loving pumpkin, enjoy the following recipes and ways to get your Pumpkin Everything. 
Making your own pumpkin puree is almost as easy as searching the store for the canned stuff.
HOMEMADE PUMPKIN PUREE
5-pound Sugar pumpkin, seeds scooped out and cut into wedges
Extra virgin olive oil
1. Preheat oven to 375°F. Line a baking sheet with parchment.
2. Drizzle pumpkin wedges with evoo and place, cut side down, on lined baking sheet. Roast at 375°F for 30 to 40 minutes until soft and a bit wrinkly. Allow to cool before scraping flesh from skin. 
3. Puree flesh in food processor until creamy and no lumps are present.
Now that you have your puree, browse through over 100 pumpkin recipes on this site. With everything from Soup to Cookies to Pizza and Pastas, there is no doubt pumpkin is a versatile ingredient. It is also an incredibly healthy, one cup of pumpkin puree has only 80 calories and 760% of the DV for Vitamin A. 
And if you don't feel like making your own it can't get easier than opening up a can of 100% pure pumpkin (nothing wrong with this shortcut) to add taste and texture to healthy foods your whole family will enjoy.
Now...let's get cooking with these recipes starring pumpkin!
14 Clever Ways to Cook with Pumpkin