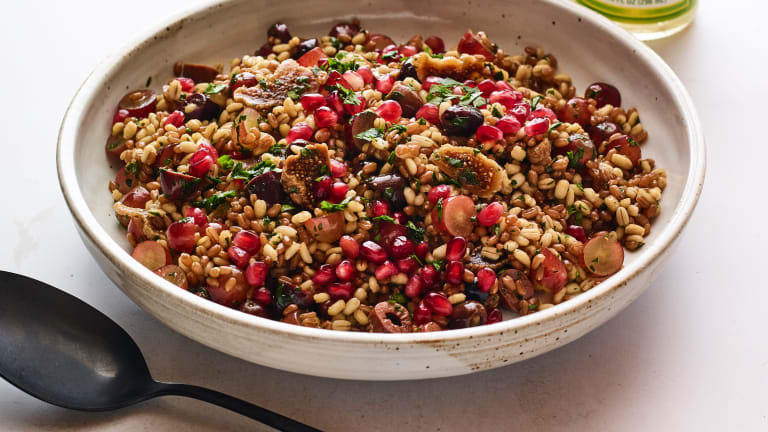 16 Great Grain Salads
Sometimes I get bored with everything I eat. It's like writer's block. I'm at a loss to think of anything I want to make, serve or even taste for dinner.
Yes, yes, roast chicken is always delicious. Or a nice thick grilled steak in the summer, when the snow has finally melted off the outdoor barbecue. Or an experiment of sorts mixing fresh thyme and Harissa for a marinade for sautéed turkey cutlets. All delicious. Just not electrifying my taste buds at the moment.
That's when I think: "Vegetarian!" "Salads!"
When the weather turns warm I turn to salads. Not little no-calorie lettuce-y salads though. I mean substantial, filling ones that even my meat-eating husband will be happy with. Like with whole grains.
My husband was resistant at first, but he's a good sport and will at least try anything I cook. He's now a fan.
My kids and their families are thrilled. This is the young generation's way to eat now. Less meat, more whole grains and veggies.
One terrific thing about grain salads is that these days you can find an enormous variety of unprocessed whole grains locally in the supermarket or health food stores. Not just brown rice and couscous (which I realize is not actually a grain but pasta) but items like Farro, so fabulously chewy and toasty tasting, and Quinoa, the world-wonder of protein. And Bulgur Wheat, the old standby of the Middle East part. And Spelt. And Millet.
I could go on.
Suffice it to say that I cook all of them. You just follow the directions on the package. The rest, as the great sage Hillel said, "is commentary."
That means you don't need a lot of actual recipes to make grain salads. After cooking the grains you start by adding raw, cooked, canned or even thawed frozen veggies. I use whatever I have: tomatoes, peas, black beans, carrot, cucumber and so on.
After that it's all about enhancements. If I want some crunch I mix in nuts or water chestnuts (or jicama, kohlrabi and so on) and I usually like to add one of the onions: scallions, red onion, Vidalias.
Depending on the other ingredients I occasionally include dried fruit (cranberries, raisins, chopped dates) to temper the grains with a little sweet sensation. Or I add deli stuff like olives, marinated artichoke hearts or sun dried tomatoes if I have them in the fridge.
Grain salads are perfect for using up what you have.
When we have grain salads as a whole meal, I often add cheese (feta, goat, blue) to give it a tangy taste and also some protein. Or hard cooked eggs.
From time to time I'll include leftover meat. You don't need much. Just what's left of yesterday's dinner.
Anything goes, really.
Whatever I decide to include, I mix it all up, drizzle homemade vinaigrette on top and call it dinner.
Most of the time I make a couple of salads that work together, flavorwise. But sometimes I serve a salad with eggs (like a cool frittata) or a vegetable dish or even cut up tomatoes or avocadoes.
The fact is, this is sort of a universal side dish or main course.
Not bad huh?
I should add that if you go to the bother of cooking whole grains for salad, make your own vinaigrette. It's easy. Just mix olive oil or vegetable oil with a good, tangy wine vinegar or lemon juice. Add a small amount of orange juice if you like. Or orange peel, for that matter (I find that orange flavor is particularly good with dried fruit plus grains). I always have fresh herbs in my house and sprinkle one or more into the salad (each salad gets a different one) to give it all some variety. And sometimes I enhance the flavor with a little bit of mustard or Harissa. Like grain salad, vinaigrette is among the most flexible recipes ever. I could write an entire blog about it. But I'll leave that for another day. Meantime, here are recipes for grain salads that we love at our house.