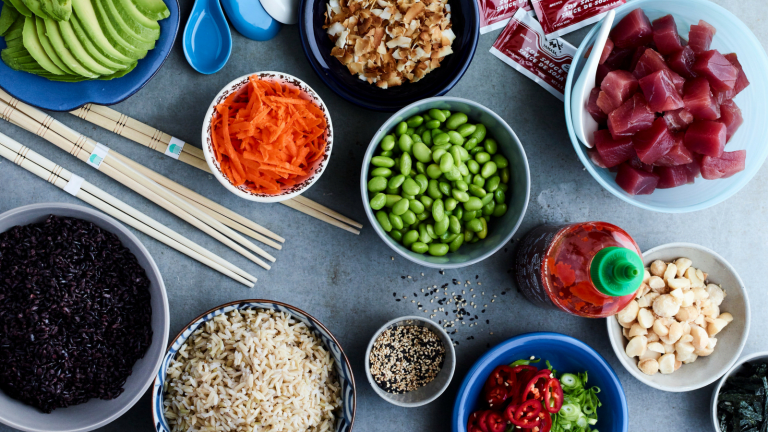 HOW TO MAKE POKE
What is poke? What are poke bowls? 
A Hawaiian specialty, poke is a celebration of fresh flavors, seafood and Japanese influence on Hawaiian culture. We like to think of it as the ultimate sushi salad. 
Tuna poke is naturally kosher and considered the new sushi! Poke (pronounced Po-keh) is a staple dish in Hawaiian cuisine. Meaning "to slice", poke is a raw fish salad made from super , high-quality tuna, sometimes salmon and other fish, that is delicately seasoned with soy sauce, toasted sesame oil, sliced scallions, seaweed and sometimes thinly sliced fresh chilies.
Poke's Main Ingredients:
The whole point of pokes are the fish! Super fresh and light, poke is often served with rice and chopped seaweed, like a deconstructed maki roll. In my opinion, pokes are better than sushi maki rolls. When I want to eat raw fish, I want to see the quality of the fish and a tuna maki roll is often chopped up tuna and bits and pieces of tuna scraps. A poke bowl is all about the fish and the quality can be seen and tasted, as it is not covered up by rice.
There are many poke varieties, but the consistent theme of fresh fish and produce and condiments of various flavors and textures combine to create this magical anytime meal. Perfect for a Shavuot appetizer, Shabbat lunch or party food we can't get enough of poke. 
Ultimate Party Food:
Planning a party this summer? Think about a Poke Bar. the basic recipe is 4 ingredients, the fun garnishes are only limited to your imagination. Let your guests customize their own poke bowls. Now, pat yourself on the back for being an amazing, creative host.  
POKE RECIPES:  
Tuna poke is the new sushi! Poke (pronounced Po-keh) is a staple dish in Hawaiian cuisine.   
The most traditional poke is made with ahi (tuna) and is simply seasoned with soy sauce, sesame oil and green onions. Serve pupu style (appetizer) with baked crisp taro chips.   
WATCH:
Want stories like this delivered straight to your inbox? Sign up now for Jamie Geller's Weekly Newsletter.