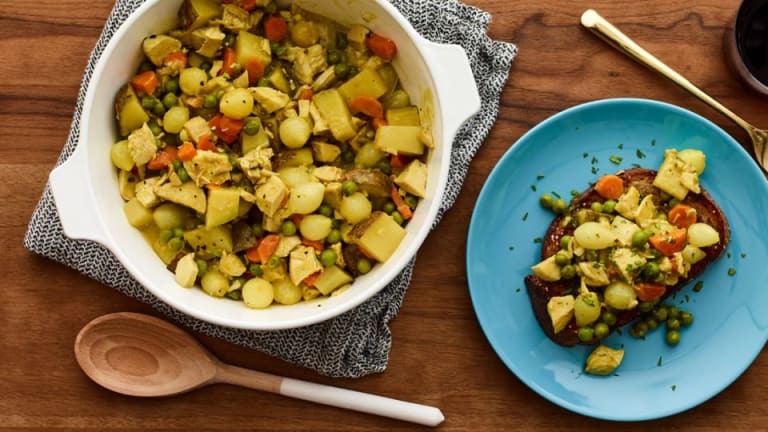 14 Pot Pies, the Classic Comfort Food
Mmm, Chicken Pot Pie -- definitely a comfort food classic. Great for when the frigid air outside seems unending. Summer is just a memory and spring is still far off.
So what should you do? 
Fill your kitchen with the warm, homey aroma of this marvelous chicken dish. It smells so good while it's baking that you really have to discipline yourself (and everyone else in the household) not to dig right in the minute you pull it out of the oven.
I remember burning my mouth as a kid, when my Mom served us a heat-and-eat freezer version of chicken pot pie, I loved it so much I just couldn't wait for it to cool. Even though my mother never wanted to be crowned balabusta of the year she did try to feed us healthy ready-made fare and this frozen delicacy was from the organic section of the freezer aisle. No-one was more shocked than she when I started actually cooking and learned enough to write a couple of cookbooks.
So I've created my own homemade version of this childhood favorite. This recipe is from my 2nd book Quick & Kosher Meals in Minutes and is wholesome and filling. It's deep flavors and great textures will have everybody asking for seconds.
Instead of going with a traditional crusted pie, I decided to try something different and do my Chicken Pot Pie with Herbed Drop Biscuits using soy milk for a savory biscuit that also calls for chopped chives. That means there's no need to roll out a crust, which is labor-intensive. You must try this modern interpretation of a great winter classic. Each person gets his or her very own biscuit! (Of course, if you prefer a thin crust puffed to a nice golden brown to cover your entire dish, I have more pot pie recipes.  And if you want a lighter pot pie or a vegetarian pot pie or spinach filled pot pie you can make those too.  Pot pies are versatile and easy to make.  
This entire meal -- start to finish -- is ready in under an hour that includes cooking time. Heat up the oven and give it a go!
Now browse through all our favorite pot pie recipes.