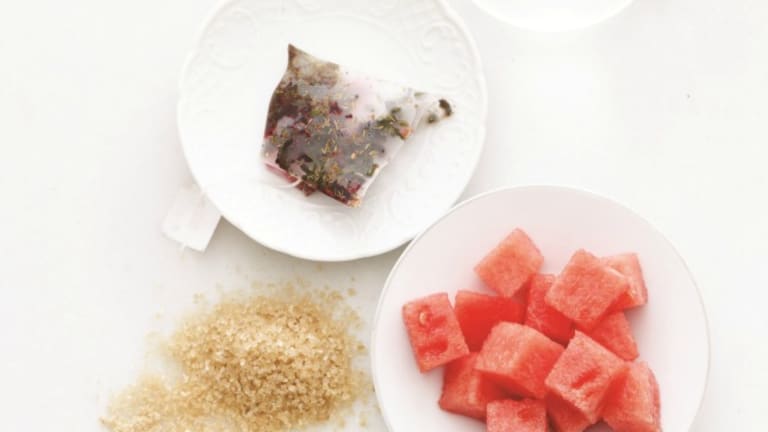 Refreshing Iced Tea Fruit Coolers, Smoothies, and Popsicles
When it's Summer time and the kids are home and you need to keep them busy, but it's HOT outside, what do you do? 
Tell the kids they are mad scientists and your making iced tea, smoothies and popsicles!
They get to choose the flavors and everyone gets to make their own.  Choose your fruit, choose your tea and get cooking.  
While your little chefs are concocting their own brew, they'll also be creating summer memories they'll never forget.
Fruity, iced tea is super easy, all you need is fruity tea bags.  If you like it sweet add some sugar.  We used Turbinado sugar, a less refined alternative to regular sugar for our iced tea, it absorbs moisture well, making it good for tea or coffee.
You can also add frozen fruit to the tea which will add flavor and make it colder.  Frozen strawberries and blueberries work great.  What's your favorite tea for iced tea?
We love to drink the iced tea as is, but it also makes the perfect base for our smoothies and popsicles. 
Strawberries and Watermelon Smoothies and Popsicles

Now that we have our tea, let's get to the smoothies and popsicles.  Make a lot, because a smoothie today can be a popsicle tomorrow. 
Here's how to get the kids involved:
Kids 2 and up: With a plastic knife or metal butter knife, slice the strawberries and cube the watermelon.
Adults with kids: In a blender or food processor, combine strawberries, watermelon, and Iced Tea Fruit Cooler. Add 1 tablespoon of sugar and taste—if need be, add more. Blend entire mixture well.
Kids 8 and older: Thread fruit onto rainbow colored toothpicks. Pour puréed fruit drink into plastic cocktail glasses and garnish with cubed fruit.
For Popsicles: Pour puréed fruit drink into popsicle molds or small plastic cups and freeze for at least 6 hours.
VARIATIONS:
Blue Lagoons: Try replacing a few raspberry tea bags with blueberry tea bags. Substitute 1 cup of strawberries with blueberries.
Jungle Fun: Use orange mandarin tea instead of raspberry tea and blend in mangos or pineapples for a tropical flavor.