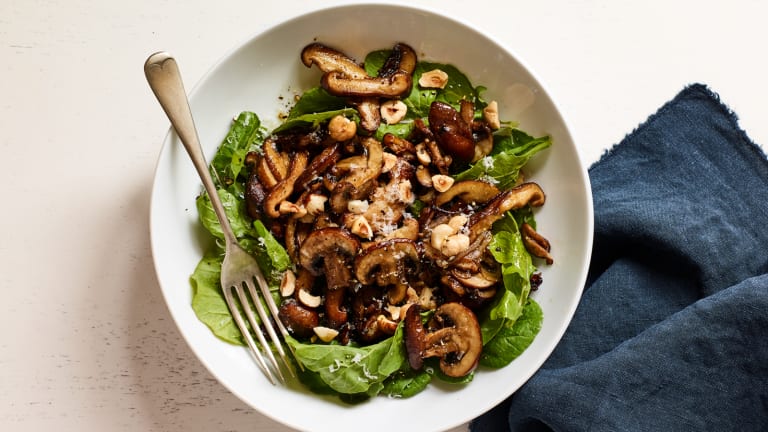 Scrumptious Summer Salads
Beat the summer heat by adding plenty of fresh summer vegetables to your plate. Eating seasonal vegetables is not only convenient, but according to Traditional Chinese Medicine, it actually helps your body acclimate better to the current season, since you are eating foods that are grown in a climate similar to where you live. Eating seasonally also supports local farmers and is easier on the environment, since produce does not have to travel far for you to enjoy it.
During the summer season we become active. We travel, we play outdoor sports and we engage more with the people and activities that are going on around us. This activity is reflected in thriving summer produce, when plants are at their peak, bursting with vital nutrients.
We crave these water-rich vegetables, like crispy green lettuce, juicy cucumbers, succulent marinated asparagus and fresh corn on the cob.
In order to maintain our health and vitality, how we prepare foods is equally important to the foods we choose. Our bodies desire fresh, raw foods to help us cool down and feel energized.  Light steaming, grilling and quick sautéing are also ways to help our bodies come into balance with the heat.  The following salads are light and refreshing, yet satisfying - pretty much a meal on their own.
All three of these recipes are vegan/pareve, so you can enjoy them anytime, anywhere. I like to serve these salads pre-arranged in individual bowls for beautiful presentation. They can also be arranged in a large salad bowl and then dressed and tossed at the table.

Gorgeous Garlic Mushroom Salad
This salad features a beautiful assortment of colors, flavors and textures from each different ingredient. It is all harmoniously brought together with the dressing.  The dressing and sautéed mushrooms feature umeboshi plum vinegar. The vinegar gives this salad a slightly salty, sour flavor, and serves as a digestive aid.  Umeboshi vinegar is the bright red brine that is leftover from making umeboshi plum pickles.  It can be used to season cooked vegetables, soups, marinades and dressings. It is available in the Japanese food section at most natural food stores or click here to purchase. To replace the flavor of umeboshi vinegar, a mixture of red wine vinegar and sea salt may be used.
Another favorite mushrooms salad (featured above) is served with warm mushrooms to softly wilt the greens just before serving. This Warm Mushroom Salad  is great for those who want something a little "meatier". 
Sweet Daikon Salad with Sesame Citrus Dressing
Dried daikon is a white radish that is sliced into strips and sun dried. It is a great source of fiber, potassium and vitamin C. It has been used for centuries in Asia as a powerful cleansing food to help dissolve and detoxify the body of old fats that are stored deep within. It is also a diuretic and helps to cleanse the liver, gallbladder and kidneys. You can find kosher dried daikon from Eden Foods.  This salad has a few more steps in preparation than the other salads, but I think the health and beauty benefits that will ensue make the extra prep time worth it.
 Southwestern Salsa & Black Bean Salad with "Sour Cream" Dressing  
In moderation, tofu can be beneficial for the body because it is high in calcium, manganese and iron, and it has been known to lower bad cholesterol and triglyceride levels. It also cools down the body, making it the perfect remedy for a hot summer day.  
Want stories like this delivered right to your inbox? Sign up now for our *free* JamieGeller Newsletter.