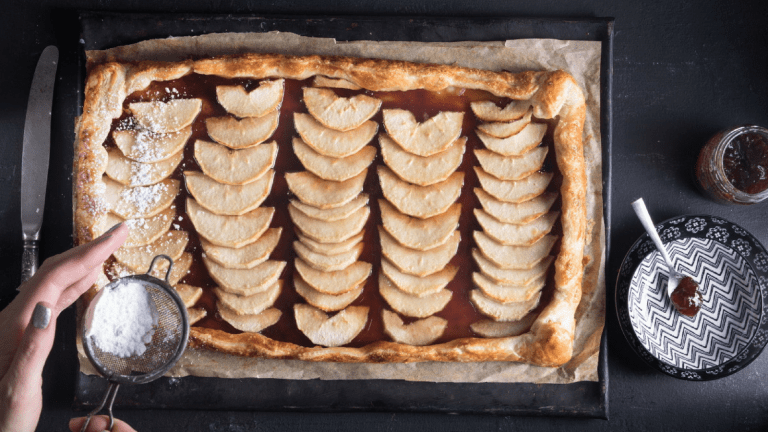 Shortcuts for Apple Pie
Is there anything more quintessentially American than apple pie? Somehow it's the perfect dessert, whether you serve it Rosh Hashanah, Thanksgiving, on the Fourth of July, or anytime else.
My wonderful mother, who is clever in everything but cooking, used to make up for that little deficiency by cornering the market in organic frozen foods. And she knew how to make the most of them. She would bring home little individual apple pies, and we kids would heat them, unashamedly salivating as we pulled the flaky delicacy out of the oven. It was always piping hot, sweet, and cinnamon-y. Just the thought of it takes me home.
It's that aroma, you know. The fragrant aroma of an apple pie in the oven is like no other. Real estate agents advise that you bake an apple pie while showing your house when trying to sell. Those warm, cozy, and comforting aromas make the buyer feel like "this is home". (If you can't be bothered actually baking, just light a baked apple scented candle.)
Apple pie is best served a la mode with vanilla or chocolate ice cream. The ice cream complements the apple pie taste but doesn't overwhelm. And there's nothing quite like the ice cream melting over the apples.
I hear you groaning. You're thinking that it's a lot of work to make apple pie from scratch. True. But have no fear; Jamie's here.  
I have several ways to get all the feelings of apple pie without all the slaving. 
These recipes are perfect when you don't feel like going through the steps of making a crust and baking an entire pie. The enticing smell of these desserts baking in the oven will fill your house with heartwarming memories.
It all started with my first Deconstructed Apple Pie
This is quick and easy and can totally satisfy that craving for apple pie!
I use frozen puff pastry to shorten prep time and individual 1-cup ramekins to enhance presentation. Watch how special people will feel when you serve them something made personally and especially for them. (I just love individual desserts. It must go back to those little frozen apple pies my Mom gave me.)
This quick apple pie also uses puff pastry but it is made in a sheet pan for a super easy but gorgeous presentation. 
With this recipe, no apple slicing is required. It is a cross between a baked apple and an apple pie - pure genius. 
For this recipe there is still a bit of work, but the mini size and crumble topping and chopped apples make it a little more manageable than a traditional apple pie. 
One ore puff pastry savior, simple and delicious.