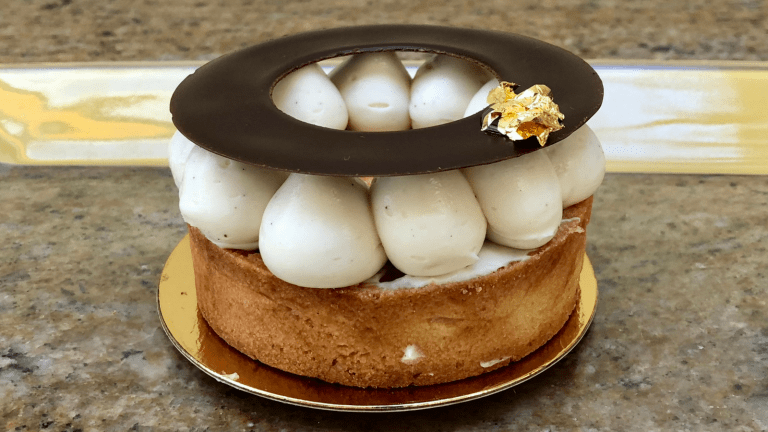 Sweet Apple Tart
Lekach, or Jewish honey cake is one of the traditional foods eaten on Rosh Hashanah in the hopes of ensuring a sweet New Year. 
Honey along with apples are two of the holiday's symbolically significant foods, because the apple symbolizes Gan Eden (the Garden of Eden) and the honey is a taste of sweetness. 
Dor Brawn, 26 year old Pastry Sous Chef of Hilton Tel Aviv, combined the two for this special holiday dessert. Try something different this year to surprise your family and guests and be sure to let them know they are dining just like the guests of Hilton Tel Aviv. 
Duration

Cook Time

Prep Time

8

Servings
Ingredients
Sweet Pastry
½ cup vegan butter or butter
¾ cups powdered sugar
1 eggs
½ teaspoon salt
6 tablespoons almond flour
1¾ cups all-purpose flour
Filling
3 yellow apples, peeled and cut into cubes (about 3 cups)
1 cup sugar or to taste, divided
1 teaspoon ground cinnamon
½ cup vegan butter or butter
3 large eggs
1 teaspoon vanilla extract
6 tablespoons sour cream or non-dairy sour cream
½ cup all-purpose flour
¼ teaspoon salt
½ teaspoon baking powder
Preparation
Pastry Dough:
1. In a food processor, using the 's-blade' mix butter with powdered sugar until a smooth paste is formed. Add eggs and process until smooth. Add salt, almond flour and all-purpose flour, making sure not to over mix. Flatten dough into a disc, wrap in plastic wrap and place in the fridge for at least 30 minutes or up to 24 hours to chill.
2. Preheat oven to 350°F. Press dough into a 9-inch pie pan. You can also press dough into mini tart shells for individual desserts. Bake for 5 minutes as mini tarts or 10 minutes as a pie.
(This is a sweet pie/pastry dough that gets pressed into a pan by hand as opposed to being rolled out. You can also press the dough into a greased springform pan if you would like for presentation purposes).
3. Allow to cool and fill with apple cake batter. Proceed with instructions below.
Apple Cake:
1. In a medium bowl, mix apples with ¼ cup sugar and cinnamon. Set aside.
2. In the bowl of a stand mixer or in a medium bowl with a hand mixer, use the whisk attachment to mix butter and remaining ¾ cup sugar.
3. Once smooth, slowly add eggs while whisking. Change to the paddle attachment and add vanilla, sour cream, flour, salt, and baking powder. Mix until combined. Gently fold in apples.
4. Bake for 45 minutes in prepared pie or tart shell(s).