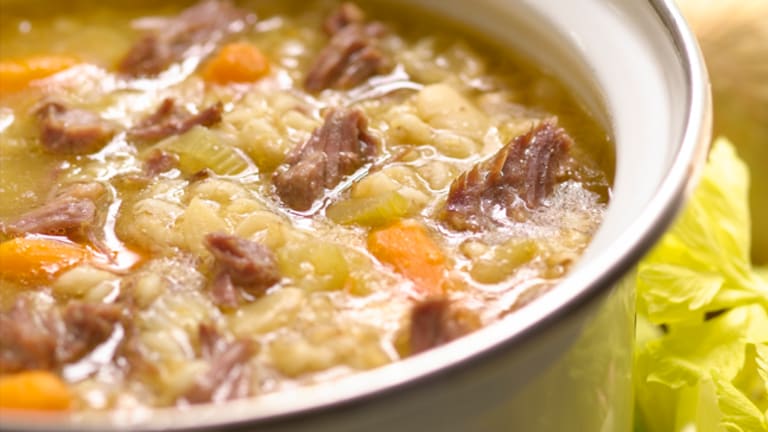 Unique and Easy Plating Techniques
Sometimes we want our meals to have a little pizzazz. Maybe it's because the in-laws are coming, or because you've just spent the day spooning carrot mush into the baby's mouth and that creative side of you is just screaming to be unleashed. (I've never been particularly creative with carrot mush; presentation is one of those things lost on my babies.). Maybe it's because you haven't gone out to a restaurant in months and you want it to feel like a restaurant in your own home. 
One dish that Hubby and I both love (a small miracle in itself) is my Beef Porridge. Now, this is a family classic out of Grandma Martha's recipe box: it's thick and hearty and really sticks to your bones on a cold winter day. It's as plain and basic as the homespun curtains in Grandma Martha's kitchen. But I figured out how to dress up this baby by serving it in a bread bowl. (Watch below my really old video so you can do it too!) Pour that porridge into the bread bowl and – voila! – you've just made a split pea beef and barley soup wonderfully elegant.
Other soups that are meant to be served in a bread bowl include French Onion, Tomato Soup, and Cream of Broccoli. 
Possibly the best dish ever invented by man (or more likely, a woman) is our classic, traditional Potato Kugel. Make it in mini individual cups instead of a round pie pan or a 9 x 13 rectangular dish, to give it a special look -- and it doesn't take much extra work at all. I call these Potato Kugel Cups. (Ok, so I don't get creativity points for the title, but at least, give me a few for presentation.) As everyone takes a bite, watch each person enjoy the coveted crunch usually reserved only for the four corners of the rectangular version.
Another new presentation tip is my recipe for Individual Meat Loaves. In my opinion, anything individual is so much more appetizing! When served in individual ramekins, this workaday favorite looks worthy of a five-star restaurant.
When it comes to dessert, the presentation options are endless! You can really get creative and show the world what you are made of. (In my case, that would be chocolate ice cream.)

Sometimes dessert is just so good you want to eat the bowl too. Well, now you can with these Edible Dessert Cups. 
They are filled with chocolate pudding but you can fill them with ice cream too! Use your imagination. I promise you, there will be not one crumb left!

Some other unique and fun single-serving ideas:
I don't claim to be the MOST creative gal on the block; in fact, most of what I do is inspired by others. 
 So what is your favorite presentation tip -- easy? a patchke?