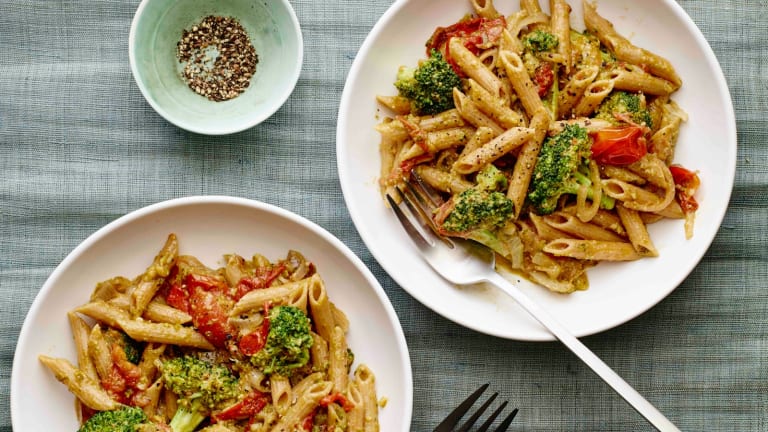 Wheat a Minute! Why Choose Whole Wheat Pasta?
For years, dietitians have been encouraging a diet filled with whole grains.  After all, whole grains may lower the risk of diabetes, heart disease, cancer and obesity.  I know it's easier said than done. French bread and focaccia are so delicious and nearly impossible to find whole wheat.  What's a foodie to do? Although a diet rich in wheat flour is probably best, it's just not realistic for most of us.  It's important to choose your battles and when it comes to pasta, it's a fight worth having.
Vegetable Mac and Cheese and Greens with Pesto Vinaigrette
Most people eat store bought boxed pasta at least once per week.  Many kids take leftovers of noodles and eat macaroni and cheese a few times a week at school or back home.  It's a quick, easy meal that you might even be able to sneak in some broccoli and spinach, without too much of a fuss.
One easy way to use your noodle is to make it whole grain. Especially when covered in sauce, no one will even notice.  If you haven't tasted whole wheat pasta in the past few years, it's time to give it another shot.   Whole wheat pasta has come a long way in taste, texture and even nutrition. 
Whole-grain pastas (from whole wheat to spelt to einkorn) are increasingly available in supermarkets and even restaurants.  Use the Whole Grains Council stamp for Good Source of whole grains (offering a half-serving of whole grain per portion), Excellent Source (a full serving of whole grain), or 100% Whole Grain/Excellent Source (a full serving with no refined grains) to help find the pasta with maximum benefit.  At least choose a pasta that lists a whole grain first in the ingredients.
For guidance on how to choose a brand, check out our Whole Grain Pasta Taste Test. 
Whole Wheat Spaghetti (use angel hair if you can find it) and Goat Cheese Crumble
If whole grain pasta still seems too grainy, try thinner and smaller shapes, where the texture is much less noticeable.  You can find whole wheat angel hair, whole wheat couscous, and whole wheat orzo.   And don't forget specialty pastas, like Barilla Plus, made from multiple whole grains, resulting in a high protein, fiber-filled product that you can enjoy guilt-free any time of the day.
For more whole grain recipes and pastas like One Pot Creamy White Mac and Cheese, Hidden Pumpkin Mac and Cheese, One Pan Lasagna, and Chicken and Israeli Couscous sign up for our healthy meal plan, Fresh Families.