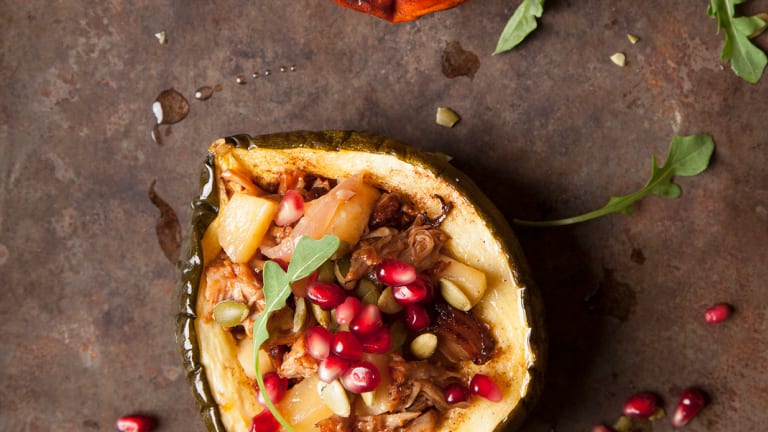 Winter Squash Recipes
As the last decorations come down from the Succah –gourds and all - and we prepare to dive into our year's activities, I can't help but wonder and ponder…what on earth do we do with these gourds anyway? Not to say that their place as a Succah decoration is an unjust existence, but c'mon…what does one actually do with them? Quite a lot, it seems, or at least so I discovered after doing some research (we love Google!). With over 700 known species, the gourd seems to have infinite craft and artistic possibilities and has been used by people throughout the world for musical instruments, pipes, masks, canteens, water jugs, dippers, birdhouses, bath sponges and as decorative pieces with intricate etched designs. So important were gourds to Haitian people in the early 1800s that gourds were temporarily made the national currency. But this is a cooking article, so I am clearly more interested in the edible possibilities. Some of the most delicious members of the gourd family include squash, pumpkin, cucumber and melons.
With the return of cooler weather, winter squash is back…and may just be the perfect warming ingredient, bound to qualify any dish as "comfort food" with all its sweet, orange creaminess. Though Butternut and Acorn squash happen to be the most common and known supermarket varieties of winter squash available, there are many other terrific kinds worth trying - Sweet Dumpling, Banana, Kabocha and Buttercup varieties, just to name a few. Each type has its own special flavor and texture. Using a new variety or a combination of a few may add a new flavor or dimension to your next squash dish.
Curried Squash Soup with Frizzled Leeks
One of the most commonly asked questions about winter squash is how to handle and prepare it, due to its thick peel and hard texture. Don't be discouraged – a good peeler, a sharp chef's knife and some "elbow grease" can make all the difference in your preparations. Even with that said, some prep tips are always helpful.
How to Peel a Winter Squash
Some winter squash have a thin or smooth enough rind to be peeled with a good peeler, such as Butternut or Buttercup squash. The easiest way to take these squash apart is the following:
1. Trim ends
2. Cut the squash in half lengthwise
3. Using a good peeler, peel away the tough skin
4. Scoop out the seeds
5. Cut as needed (i.e. chunks, cubes)
Once prepared in this way, it can be boiled, roasted, steamed, sautéed, etc. and used in your favorite dishes.
Or...
Other squash, such as Acorn squash or Sweet Dumpling, are difficult to peel as the natural grooves make peeling hard to maneuver. With these types of squash, most people opt to cook it unpeeled – simply scrub, halve, seed and bake. The skin is edible, however, if tough, the cooked flesh can simply be scooped out of its "cup" and eaten, discarding the skin. I like to roast it this way drizzled with maple syrup, olive oil, salt, pepper and cinnamon – simple, yet delicious! Additionally, these small-sized squash make them ideal choices as "stuffing" squash.
Braised Apples and Veal Served in Acorn Squash Cups
Chai Roasted Stuffed Acorn Squash
Mushroom and Quinoa Stuffed Squash
Squash puree is easy to prepare for baking recipes:
To pre-bake squash halves (any kind): simply cut in half, scoop out the seeds, and bake cut-side down at 375-400 degrees Fahrenheit until fork tender (about 45 minutes). Once baked, the cooked flesh can be scooped out of the skin and mashed or pureed in the food processor for other recipes.
TIPS
• Winter squash store very well - they'll last the "winter" in a cool, dry, well-ventilated location (like a basement). Check on a regular basis for rot and use within three to six months.
• Refrigerated, cut pieces of winter squash will last up to a week stored in plastic storage bags or tightly saran-wrapped.
• Choose firm, well-shaped squash that are heavy for their size and have a hard, tough skin. Do not choose those that have sunken or moldy spots. Avoid squash with cuts or punctures in the skin.
Some helpful equivalents in your squash adventures may include:
1 pound peeled squash = 1 cup cooked, mashed
2½ pound whole squash = 2¾ -3 cups pureed
1/3-½ pound raw unpeeled squash = 1 serving
Here are some more wonderful fall recipes bound to warm you up on a chilly night even once your Succah is down. It may not be a marimba or a vase, but recipes like these certainly remind us to celebrate the gourd family!
Autumn Rice Pilaf with Butternut Squash