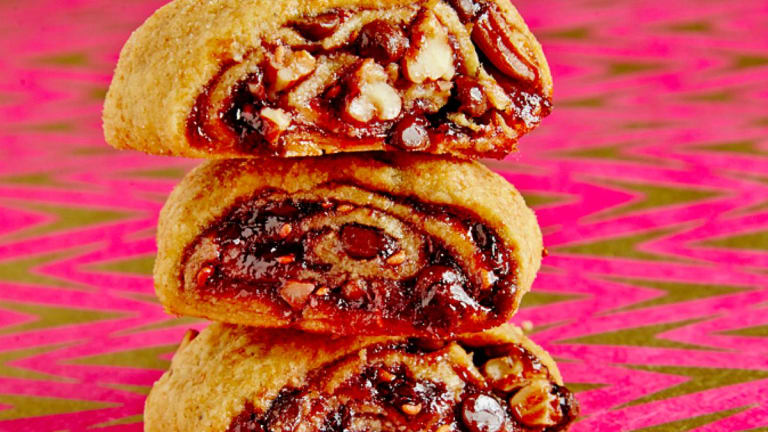 Your Favorite Desserts Made Healthier!
Even though many of us have started eating healthier foods, when it comes to desserts, we want the real deal. Personally, I do not eat any sweets that are not calorie-worthy; I would rather enjoy small bites of something decadent and delicious, than an entire cake that is at best, average.
As new flours have saturated the market, I wondered whether I could achieve both health benefits and great taste in my favorite desserts, while keeping them pareve.
In her award-winning new cookbook Flavor Flours (Artisan 2014), Alice Medrich introduces bakers to desserts made from rice, oats, corn, sorghum, teff, and buckwheat. She uses these flours to create desserts that we love such as linzer tarts, sponge cakes, and chocolate cream pie. The photos are gorgeous, and the desserts do not look widely different from their white-flour counterparts. Inspired by Alice, I set out to create three Rosh Hashanah and Sukkot desserts to encourage you to think outside the flour bin and reap the health benefits of these flours without compromising taste. I focused on oat, spelt, and brown rice flours.
In the recipes here, I have combined these healthy flours with ones you may already know, to ease you into the new "flour garden." You will find that they give these desserts a rustic, almost nutty taste, and discover that white flour is no longer the only flour in the bouquet. (See below for more details on flour alternatives).
Baking with alternative flours add a depth of flavor to your desserts, and one you can consume with less guilt.
The rise in interest in gluten-free eating has sparked interest in alternatives to wheat flour for cooking and baking. Even if you are not following a gluten-free diet, there may be other reasons to consider trying different kinds of flour. Fiber from fruits, vegetables, and whole grains can prevent chronic diseases and contribute to a healthier lifestyle. Using these flours is an easy way to integrate more fiber and nutrients in your diet. -Tamar Genger, MA, RD
This is a healthier version of my favorite pecan, chocolate, and raspberry rugelach recipe. Feel free to substitute other flavors of jam and other nuts to make this recipe your own. Prepare the dough a day in advance, as it needs to freeze overnight.
More: Try these challah recipes with alternative flours
This healthy fresh and dried fruit galette combines apples and blueberries with dried apricots and dates, all baked into a guilt-free dough that is made with whole wheat and spelt flours. You can substitute other dried fruit and other berries in the filling.
MORE: Chef Paula Shoyer in the Joy of Kosher Kitchen
In this carrot spice cake with honey glaze, the brown rice flour gives the cake a very soft texture that allows the flavors of the spices to come through. The glaze is not required; you can always just dust the cake with confectioners' sugar.
Learn more about these flours here. 
Muffins are a great healthy choice as they are pre-portioned, are not too sweet, can be filled with healthy, nutrient and fiber boosting ingredients (don't tell the kids), and most of all kids love them. 
A second favorite fruit and veg filled treat. 
Oats and fruit make an easy, healthier dessert. 
Even blondies can be made healthier, don't tell the secret ingredient and no one will know. 
GLUTEN FREE BLACK BEAN BROWNIES
These brownies are so good no one will know they are made from black beans.