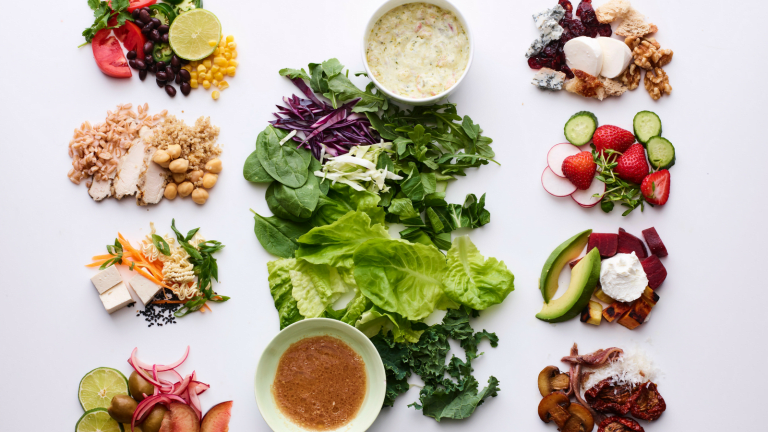 Build Your Own Salad
TOSS IT!
Tired of cucumbers, tomatoes, black olives, and raw peppers?
Your bowl of greens can be a blank canvas and satisfy every craving you've ever desired with this How To guide to building your own salad, plus my favorite salad recipe combinations.
Keep a few different homemade dressings and some of these fun ingredients chopped up in the fridge for easy mixing-and-matching.  Welcome to your new life -- you can literally enjoy a new salad every single day.
Additionally, salads and salad bars are perfect for parties and entertaining.  Deceptively simple but impressive looking - with minimal to no cooking required - it's just a matter of placing raw and fresh ingredients in beautiful dishes and bowls.
SALAD BAR INGREDIENT SUGGESTIONS: (scroll down for dressing recipes)
Go Green
Arugula
Baby, Boston and Butter Lettuce
Cabbage
Cilantro
Iceberg
Kale
Micro Greens
Mint
Parsley
Romaine
Spinach
Swiss Chard
Basics, Plus, Plus:
Avocado
Asian Pears
Beets
Berries
Carrots
Celery Ribs
Cucumbers
Cooked Brown Rice or Tabouli
Corn Kernels
Dried Fruit (Apples, Cranberries, Peaches)
Grapes
Jicama
Kohlrabi
Mango
Olives (Green, Kalamata, Spanish)
Peaches
Radish
Roasted Peppers
Sautéed Mushrooms (add a little white wine while cooking)
Sun Dried Tomatoes
Supremed Orange Segments (learn how to cut citrus supremes here)
Tomatoes (Heirloom, Grape)
Pack With Protein:
Shredded Chicken
Sliced Steak
Flaked Fish
Fresh Mozzarella Balls
Feta Cheese
Goat Cheese
Shaved Parmesan
Legumes (Peas, Beans, Alfalfa, Lentils)
Nuts
Soft or Hard Coked Egg (halved or chopped)
Tempeh
Tofu
Quinoa 
For Fun and Crunch:
Banana Chips
Candied Nuts
Chia
Croutons
Flax
Pita Chips
Pumpkin Seeds
Ramen Noodles
Sesame Seeds (Black, White, Toasted)
Sunflower Seeds
Taco Chips
You're never fully dressed without…a good emulsion. Shake these dressings up and keep them in your fridge and the lonely veggies in your produce drawer will always have something to wear.
SALAD DRESSINGS:
MY FAVE SALAD COMBOS: 
Toasted Sesame Salad - I like the Orange Soy Vinaigrette served over Romaine, tofu, shredded carrots, toasted ramen noodles and sliced scallions. Add avocados, clementines or supremed citrus, to really amp up the salad. 
Go South Salad - What pairs well with the hot flavors of the Creamy Sriracha Dressing? Romaine with sliced tomatoes, sweet corn kernels, avocados, tortilla chips, baby corn, cucumbers, jalapenos—your pick! Or—add a protein and throw it all in a wrap, using the dressing both in the wrap and as a dip.
Caesar with a Punch - Use the Classic Caesar Dressing with Romaine, croutons, roasted mushrooms, anchovies and sun-dried tomatoes. Add Parmesan cheese if you're making yours dairy. Or mix the dressing with romaine lettuce and top with chickpeas, grains, slice roasted chicken. 
Roasted Beet and Goat Cheese - Mix sweet roasted beets with Romaine, avocado, roasted sweet potato or parsnip and candied pecans, and toss with the Fruity Balsamic Dressing for a salad with a sweeter side. I like using golden beets so there's less mess and no color bleeding.
Tomato and Arugula Salad - Toss sliced sweet summer grape or cherry tomatoes with arugula with the Green Goddess Dressing. Another surprising combo with green goddess is strawberry, cucumber and radish sprouts. Absolutely STUNNING as well. 
Mediterranean Fusion Salad - Toss the Lemon Basil Dressing with roasted red peppers, tomatoes, black olives, feta cheese, slivered almonds, and fried eggplant for a salad that spans the sunniest sea. This fresh dressing also works wonders with blue cheese, nuts and dried fruit over mixed greens.