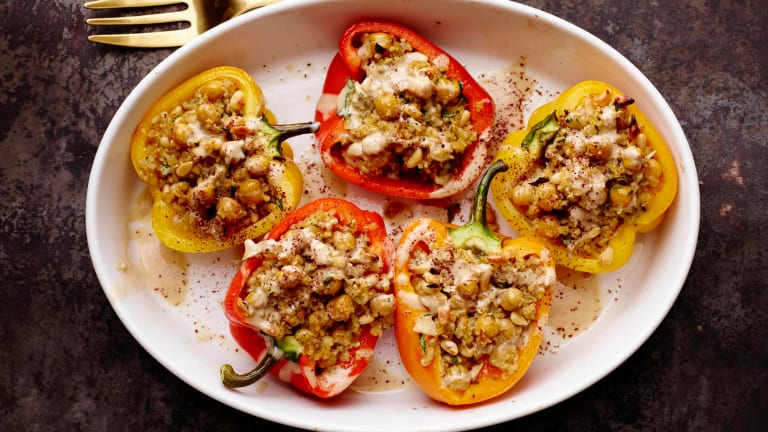 Vegetarian and Vegan BBQ Sides To Make The Meat Eaters Jealous
BBQ season is in full swing. For those trying to eat less meat or who don't eat meat at all, this time of year can be a challenge, but it shouldn't be. 
Get that grill flavor with recipe ideas from our Meatless Mangal and then choose some of these vegan sides that are are just waiting for you to show them off at your next BBQ.  
Spring and Summer is the best season to enjoy fruits and vegetables.   The most variety and the best produce is aplenty at your local stores and farmer's markets.  Now is the time to make vegetables the star or at least a very strong supporting role. 
This year the meat eaters will be jealous. 
37 Vegetable Sides Perfect for Your Next Cookout
The Best Stuffed Peppers You Will Ever Eat
Kill it with color
It's not a party without guacamole
Mean and green and every vegan's best friend, don't let the meat eaters have any. 
GET THE RECIPE: A Spicier Guacamole
The sweetest salsa you will ever eat
Pineapple on the grill actually gets even sweeter, mix it up with salsa flavors and enjoy all night long. 
GET THE RECIPE: Grilled Pineapple Salsa
Crispy hasselback potatoes will be the envy of the party
These can be reheated on the grill if needed, but taste great any where. 
GET THE RECIPE: HASSELBACK POTATOES
The capered potato crusader
Adding capers for saltiness and almonds for crunch, this potato salad will beat all others and vegan too. 
GET THE RECIPE: Almond Caper Potato Salad
Bring a little sunshine to your BBQ
Kale salad with mango and blueberries covered in a lemony dressing.
GET THE RECIPE: Kale Mango Salad
Grilling Corn Brings Out All Its Flavor 
Now you know how to use that green garlic
The best slaw ever with purple cabbage and green garlic dressing. 
GET THE RECIPE: Green Garlic Slaw
Make a big batch of veggies
Thin slices of zucchini that look like pasta
Get our FREE weekly email with tons of great recipe ideas when you subscribe here.