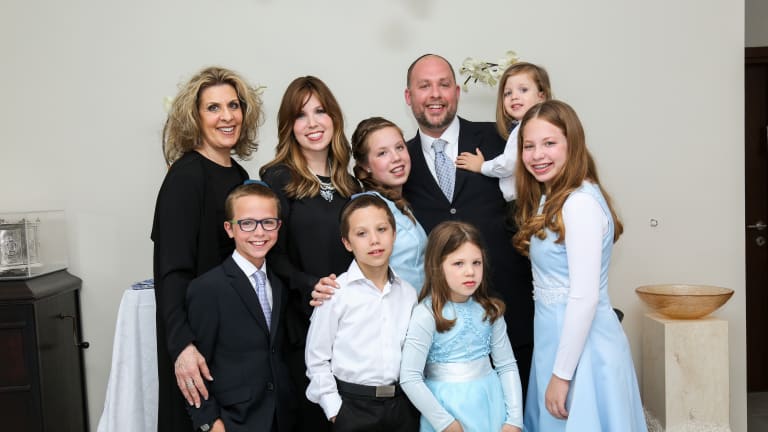 Rochel Naami's Bat Mitzvah
I thought it was just the first - but each simcha (happy occasion), each milestone, for each child is just as sweet and special.  Our sweet, sweet, beautiful inside and out, Rochel Naami turned 12 this summer and we marked it with an intimate celebration for the women of our family, in our home.
Celebrate our oldest daughter, Bracha Miriam's Bat Mitzvah with us here.
Here's a rundown of how I put together this simple yet meaningful celebration.
GUEST LIST
Once we opted to host this at home we simply couldn't accommodate both friends and family (as ky"h we have a big one).  We gave Rochel Naami the choice between an all friends party or an all family party.  The invite list for each was around 35-45.  She went back and forth for a second and then settled on a family party because we are just too close not to celebrate together. 
Mothers, siblings, first cousins, second cousins and their girls were all invited -- we had to draw the line at the kids of the 3rd cousins 3 times removed.  But thankfully everyone understood the space limitations.
MENU
I always plan the menu only after we've established the party (type, style, occasion) and people (attendees).  Once that's settled the first Q went to Rochel Naami: milchig (dairy) or fleishig (meat).  She chose dairy and started rattling off her favorite dishes.
Now remember, I'm still working in a makeshift kitchen (thank you Hubby for your resourcefulness!).  One of the ramifications of my setup is that I don't have an area for dairy other than a small oven that cooks on it's own schedule and can fit just one pan at a time.  I don't have a dairy sink, dairy countertop, dairy dishes, dairy cookware, etc etc etc so I had to seriously modify her menu.  I (meaning the kitchen) can handle no more than 1, hot-out-of-the-oven dairy dish and so with that stipulation she easily picked her favorite -- our famous Geller Creamy Baked Ziti.
We made up the balance of the menu with items best served chilled or at room temp.  
First up, my trusty side salmon.  
Always an ooh and aah crowd pleaser, it's so perfect for a party.
Seared lemons are key for an elegant presentation.  After that use fresh herbs or pomegranate arils or both, depending on the season.  (Psst: Both of these recipes are perfect for Rosh Hashanah!)
An OTT salad bar added lots of color, flavor and texture to the buffet table.
Variety is crucial for an Over The Top Salad Bar and I really don't think there is anything off limits.  Meaning, if an ingredient is pleasing to you, add it to your salad bar and build your own salad, custom - just how you like it.  I'm telling you this was the BIGGEST hit of the buffet - from the youngest girls to the great grandmas in the house (we had 1!).  Here I share my favorite out-of-the-bowl combos for spectacular salads.
And... you're never fully dressed without… a good emulsion. Options are what make a salad bar go from good to great.  Even when I'm not entertaining (with no stove!) I shake these dressings up and keep them in the fridge so my lonely lettuce always has something to wear.
Finally, I rounded out the buffet with easy-to-buy and easy-to-serve bagels which added some much needed bulk and heft to the food offering.
For dessert, I called some friends.  Cause, what are friends for?
Candy buffet courtesy of Candy Corner Israel. (Tamar, one of the owners is my sister-in-law's neighbor!  And we spent Pesach together our first year in Israel.)
Bat Mitzvah cake and cookies courtesy of Kosher Cakery. Chief Baking Officer Devorah and I were on the same aliyah flight and we've been celebrating together ever since.
DRESSES
The girls gowns were borrowed from a local gown gemach.  All that's required is the cost of dry cleaning and your token deposit is returned once the dress arrives laundered back at the gemach.  The gemach is arranged by color and we always let the Bat Mitzvah girl choose first.  Once we find something that fits, the other girls fall in line with the color.  
I love that Rochel Naami chose this icey blue dress - it inspired the shades of blue tones for the party decor.
I just pulled a new favorite DEBBY from my closet.  It's a lightweight, summer, bell sleeve black dress Debby gifted me after a recent photo shoot.  I accessorized with this $9.99 pearl and blue, multi strand, chunky chain necklace from Amazon. 
PARTY DESIGN
My best-friend sister-in-law, Devorah Maslin is a party designer and her gift to the Bat Mitzvah girl was the set up.  She transformed my unfinished home into a warm and inviting elegant hall for our special occasion.  (If you're in the Beit Shemeh area message me for her details.)
SPEECHES
It was Rochel Naami's first time public speaking and she was spectacular, thank G-d.  The rest of us (me and the grandmas) spoke from the heart, mostly unscripted and heavy on the tears.
PHOTOGRAPHY
This is actually my favorite part.  Because the event always flashes by in a whirlwind of hugs and mazel tovs and sheer joy.  The lifetime of memories are born from the pictures.  
Because the girls were all primped for a party I made the boys quickly get fancy for family photos.  
I love you Zelda Photography for truly capturing the essence of our joy and love on this incredibly special day.