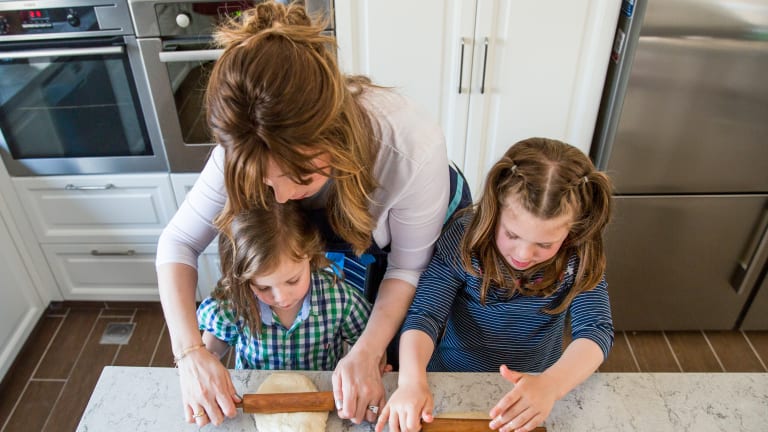 Snow Day Cooking with the Kids!
The children are cheering and calling their friends to share the great news. It's a snow day! No school!
It's wonderful fun at first, but we all know that the parent who is staying home with them will have to deal with snow-day cabin fever. After the kids have built their snowman, made snow angels, and thrown a few snowballs, they'll be stomping into your kitchen whining that there's "nothing to do." (No, this is not the time to remind them about that book report. When you have a day off, do you want to be reminded about the presentation you have yet to prepare, or the pile of laundry waiting for you?)
You foresee that they're likely to spend the rest of the day glued to some screen (wide, medium, or hand-held) turning slowly into dazed zombies. And they're not interested in the activity closet full of board games, cards, and puzzles.
I have the answer. 
Before you even wipe up the snow puddles on your floor, send them to wash their hands, because – we're going to cook up something special together!
Not only will you keep them occupied, but you'll also have lunch and dinner ready when you need it. You'll feel accomplished and so will they.
So let's start with a classic kiddie lunch: peanut butter 'n' jelly, and we'll add a little Jamie Geller twist. In truth, a lot of grown-ups (including me) LOVE pb&j. I've eaten it for breakfast, lunch, and dinner. My mom has invented her own adult version of this comfort food: a sandwich made with toasted whole grain bread, natural organic peanut butter and all natural, no sugar added, raspberry jam. Coupled with a glass of hot milk, it makes a great midnight snack.
Anyway, after the kids have warmed their hands and gathered round the table, try this kid-friendly pb&j sandwich, along with apples and blueberry lemonade. I call this one Peanut Butter and Jelly Crunch with Blueberry Lemonade.
You can create a "pretend beach day". Serve the lunch and lemonade while "sunning" yourselves in the den. There might be icy winter gusts outside, but indoors you can make it warm and toasty and pretend it's still summer. Get the recipe.
Spread beach towels on the floor, put on your sunglasses and serve the lemonade garnished with lemon wedges on the glass and add a fun drink umbrella. You're all enjoying a funny sunny day at the beach! 
If the kiddies won't go for that serve it with a nice hot mug of hot cocoa topped with marshmallows. They can wrap their cold fingers around the mug and the hot drink will warm their bellies.
After lunch, you can get down to cooking a family-friendly dinner with the kids. Try this Three-Cheese Mac & Cheese and Garlic Roasted Tomatoes.  Even if you don't have all three cheeses on hand you can always use your favorite cheesese - you know me – rules are so out the window when it comes to the kitchen. Don't let a lack of kashkaval keep you from making this recipe and don't venture out if the streets are icy.
Your kids can help assemble the mac & cheese by mixing the noodles with the cheeses and putting the breadcrumb topping on top.
For a lighter version of this classic, try Vegetable Mac & Cheese with Greens and Pesto Vinaigrette. It's still rich and creamy but uses brown rice pasta and a hidden serving of carrots to pump of the health factor. Try substituting other vegetables your kids like in the puree -- such as pre-cubed pumpkin or butternut squash -- and use any type of wheat or whole grain pasta you prefer.
For something a little more ambitious, go for this White Lasagna, make a double batch so you can freeze one for a later date.  
Now you are looking forward to that snow day, right? Well, at least you're not dreading it!
Get more recipe ideas for your snow day with 15 COMFORT FOOD RECIPES PERFECT FOR A SNOW DAY.