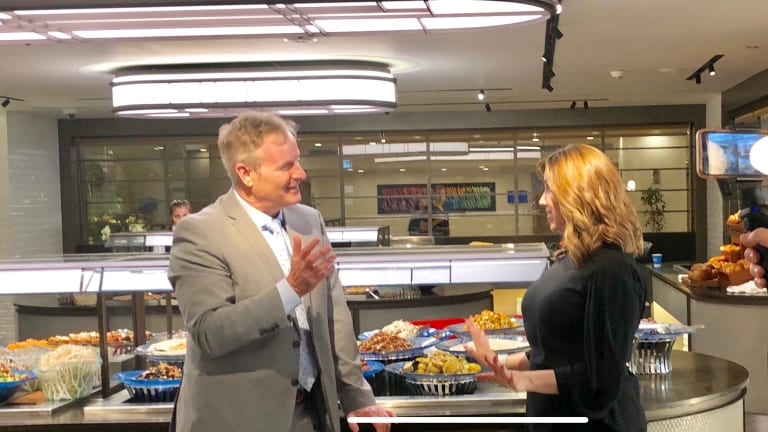 MY SHABBAT EXPERIENCE AT THE HILTON TEL AVIV
Just last week I had one of the most magical and moving Shabbat experiences of my life.
Hubby and I were invited to the Hilton Tel Aviv since they recently renovated Cafe Med, Chloelys, and their Friday Night Dinner Buffet.  At first I considered declining the invite.  How could we leave the kids for Shabbos? While I obviously travel for business which has kept me away for a handful of Shabbats over the years we have never both been away from the kids for Shabbos at the same time.  So this was new territory. 
But since the kids are older and we have local family and friends they can stay with, we decided to try a 25 hour (+ travel time) Shabbos getaway, just this once.
To be honest, we weren't sure what kind of Shabbat atmosphere to expect at the Hilton Tel Aviv.  We go every year and stay at the Vista for a few days of Chanukah with the entire family in tow and simply adore it.  But we have never spent a Shabbos.
We made what seemed like a hundred calls in advance,  We spoke to the Mashgiach and special ordered Mehadrin chicken and meat.  We spoke to the hotel shul Gabbai to inquire about minyanim/prayer services.  He kindly laughed at us and told us not to worry.  Even so, we worried, did research on the local synagogues and prepared to bring our own seudah shlishit as this is generally never included in the Shabbat meal offering. 
We arrived and requested a low floor, as our custom is not to use a Shabbat elevator although the hotel does have one. I quickly mourned the loss of the Vista Lounge and secretly wondered what a 4th floor room would be like.  It was beautiful, newly renovated (just like the Vista) with a balcony and breathtaking views.  We kept the curtains open the entire time as the Sea, Beach, Marina and downtown Tel Aviv views were just as enchanting by night as they were tranquil by day.
We attended Friday night services unsure of what to expect.  At best I hoped for a minyan (the necessary quorum of 10 men) for Hubby.  At worst I figured we'd walk down the street to a nearby popular Shul.  Since I rarely have the opportunity to go to synagogue I was all too eager to take advantage of this kid-less opportunity to join Hubby for formal prayer, I just assumed I'd be sitting alone in the women's section. 
Well...
The Shul was PACKED.  The men's section, the women's section. I believe we were over 100 people.  There wasn't a chair or prayer book to spare.  Even more beautiful than the number of people, were the people themselves.  I expected what my mother and grandmother would call in yiddish a "nebech" showing.  "Nebach" in numbers -- meaning a meager, few.  The devoutly religious who somehow found themselves at the hotel for Shabbos.  But the reality was quite the opposite.  From tattoos, jeans, and sneakers, to suit, tie and black velvet yarmulkas (and everything in between) the Men's section was roaring with heartfelt prayer.  Melodious and full of energy the traditional Friday night tunes were sung, lead by Chazan Yair Pasker who has a particularly strong and moving voice.  The women's section featured women wearing wigs, and pants and short skirts all following along and just as passionately praying to the Almighty in traditional Hebrew.  It was a site the likes of which I have never ever seen. The spoken language was a tangle between Hebrew, French, English, Portuguese (and who knows what else) and the love and unity in the synagogue moved me to tears.
Hubby and I walked out and looked at each other like WOW.  
Then we walked into Cafe Med for the Friday Night Buffet.
And we looked at each other like WOW, again.
Over 500 people were gathered around tables in parties varying in size, from  2 to 4, to 20.  The blessings over wine and Challah could be heard reverberating throughout the room, and the general atmosphere reeked of a festive family gathering.  While everyone was with their respective personal families, gathered around their respective personal tables there was a general feeling of being part of one larger family, all dining together.
The buffet was not just lavish, it was practically set up with so much thought given to crowd flow.  Two cold savory buffet islands were stacked with over 30 salads, smoked and poached fish platters 100 ways from Sunday, and 3 kinds of caviar.  Charcuterie boards were overflowing with a beautiful variety of thinly sliced, cold, cooked meats.  The perimeter featured a challah section, soup station, carving stations, warm entrees and side dishes, chilled fruit, a selection of sorbets, and a display of oversized petite fours that were almost too beautiful to disturb.
The lavish dinner lasted until after 11 pm when the dining room started emptying out.
Saturday morning services were a repeat of the evening before with a special Kiddush set up just outside the synagogue so we could make the requisite blessing over wine and have a bite of fresh cake (yes, even Shabbat morning cake is part of the religion!) This was a small detail but an important one.  The Kiddush further created a genuine air and atmosphere of  Shabbos that just permeated the entire 25 hour period.
We then went down to breakfast and tried to just nibble on the lavish spread since lunch was just around the corner.
Lunch had an entirely different atmosphere.  While the crowd was significantly smaller than Friday night it just lent a feeling of intimacy to the day.  The views of the Mediterranean Sea and sun poured in from the floor to ceiling windows.  It truly felt like we were dining right on the water yet in the comforts of the beautifully appointed Cafe Med replete with AC.  And the diners continued to be this beautiful mix of Jews. Some dressed in their shabbos finest and others in flip flops and beach cover ups stopping in to say Kiddush and have a formal Shabbat Lunch.
The buffet was plentiful, the food delicious, and I once more OD-ed on dessert.
We enjoyed the last few hours of the day from our balcony reading, talking and napping.  
After resting like we were being paid to do it, we prepared the meager third meal provisions we had brought along (I mean who was hungry after all?  We do this just for the mitzvah!) and raced down to the afternoon prayers. We expected to return to our room between the afternoon and evening prayers for our third meal, but instead, we found an entire, communal seudah shlishit was being set up for everyone to enjoy before Maariv and Havdallah.  We were shocked!  We have been to the finest hotels and have never seen seudah shlisihit included when menus are a la carte. 
We ate and prayed and stayed for the beautiful communal havdallah which included enough fresh mint for everyone to have their own bunch for the prayer over "bsamim."
We left, crying (as is my custom when I have an amazing time) whining really, that we weren't ready to and DID NOT WANT TO LEAVE.  
But alas, we returned home so invigorated, so inspired and so determined to come back -- next time with the kids.  And Motti Versus, Head of Publicity for Hilton Hotels Israel gave me a special blessing to do just that.  Hear it and watch this article come to life in the video below.
I'd love to hear about your unique and inspired Shabbat experiences in the comments below.