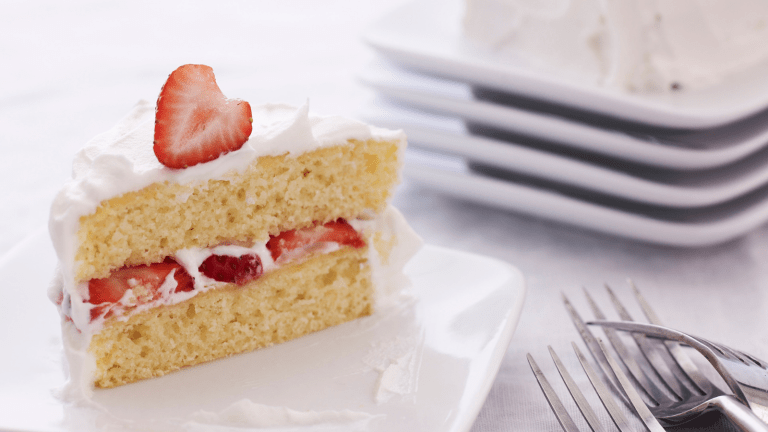 Instead of Heavy Cream, Try Coconut Milk
What can be used in place of heavy cream? 
Heavy cream is a common ingredient in many rich and creamy desserts as well as rich and creamy mains.  So it's no surprise that this is one of the number one questions for baking substitutions we get.  
According to the kosher dietary laws we do not mix milk and meat and this doesn't just mean in one specific dish, but we even wait 3-6 hours after eating meat until we are allowed to eat dairy. 
Don't you just hate that moment when you fall in love with a savory meat or pareve recipe only to find out that it calls for whipping cream?!? I mean, how can I add whipping cream to my chicken alfredo, savory cream sauces, fish stews and even biscuits with gravy. Yes, that's right! I'm talking about rich fluffy biscuits with thick meaty gravy.
The answer to this dairy conundrum is as simple as a can of natural coconut milk! 
Versatile coconut milk can add creamy texture to soups, rich flavor to sauces and is the perfect substitute for heavy cream in any of your favorite savory dishes and desserts. 
If you're wondering about other non-dairy milks like soy milk and almond milk, they are just too thin to use in place of rich heavy cream, although they are great to sub in for regular milk.  
When a recipe calls for heavy cream, go for the good stuff and stock your pantry with canned coconut milk. I like to buy a whole case of this creamy substitute so I always have some around and those cans can sit on your pantry shelf forever! Does it get any more convenient?!? 
You can also make your own from desiccated coconut with these instructions, but you know I am all about getting you out of the kitchen and the canned coconut milk is all natural with only one ingredient, coconut. 
It's really as easy as shaking a can of full fat coconut milk, opening it up and substituting measure for measure with the heavy cream in any recipe. 
What can I do with extra coconut milk, sometimes a recipe only calls for a few tablespoons? 
If you have any extra coconut milk, transfer it to an airtight container in the fridge for 3-5 days. I like to add extra coconut milk to my morning cup of coffee or stir with melted chocolate for a rich ganache or even turn them into truffles, but you can use yours for even more savory dishes if you want. The options are seriously endless.
What is the difference between canned coconut milk and boxed coconut milk drink? 
People are always asking me if they can use boxed coconut milk drink in place of canned coconut milk in a recipe and my answer is always the same…"NOPE!" 
Boxed coconut milk drink is exactly what it sounds like. It's a drink. It's often watered down and filled with additives like carrageenan, guar gum and other sweeteners and should be avoided for all cooking and baking. And if you're wondering about using lite coconut milk since it has less fat and calories than full fat coconut milk, just know that water has been added to lite coconut milk, making it thinner and therefore not a good substitute for heavy cream.
Here are a few brands of kosher canned coconut milk that I recommend and you can buy them all on Amazon: Native Forest, Natural Value, Roland.
Now some recipes. 
These 7 recipes are made with or can be adapted to be made with coconut milk instead of heavy cream.