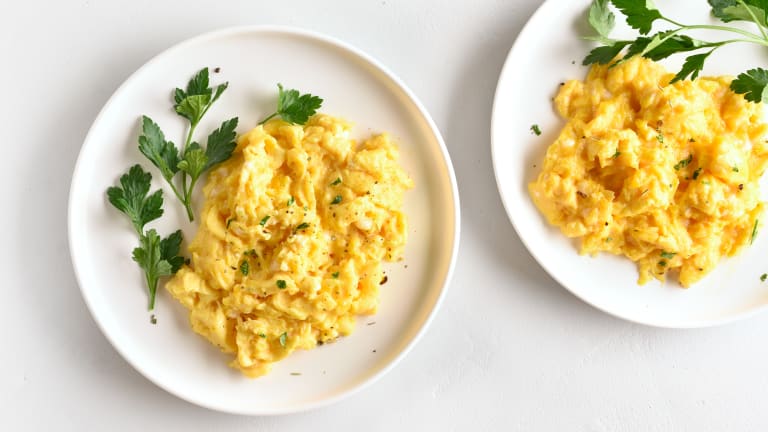 How to Scramble Eggs
Mother's Day is coming and that means Breakfast in Bed for Mom or at least breakfast made by someone else.
On Mother's Day millions of befuddled Dads and kids will descend into their kitchens, and stare blankly at the stove hoping for inspiration. 
What is the magic solution for Mom's Day?
Scrambled eggs are your best bet for Mother's Day or any other time you need to serve breakfast to a group. The trouble is that most people get off on the wrong foot with scrambled eggs before even cracking one open.
Scrambled eggs are an art - don't make these mistakes:

The first mistake most people make is reaching for a frying pan. The second mistake is cranking up the heat.  The result is dry, overcooked chunks instead of the rich and custardy texture scrambled eggs are famous for.
Use this method for scrambled perfection:
Start with the freshest eggs you can find, about a dozen.
Beat the eggs well but don't add anything.
Next, get a heavy-bottomed pot instead of a frying pan.  Heat the pot over medium-low heat.
Here's the shocking part, add a stick of sweet butter to the pot.
Add the eggs and cook them over medium-low heat, whisking constantly, until the eggs form small, creamy curds. The stirring goes pretty slowly at first, but be careful, once the eggs start to set they can go from perfect to overcooked in seconds.
Remove the eggs from the heat before they are dry and season to your taste.
Serve with toast, muffins, bagels or croissants, some coffee and some strawberries or orange slices.
If you're thinking,  "anything with a stick of butter in it will taste pretty good, but isn't that a lot of added fat"?  You're right, but it's not as much as you think. 

A dozen eggs feeds 6 to 8 people so a stick of butter means the addition of about 1 tablespoon of butter per person. You're right, the butter is necessary because it adds flavor, but the fat in the butter also helps create that wonderful creamy consistency in the scrambled eggs. Plus, this is a special occasion meal; you're meant to indulge a little.
How can the kids help? 

Kids can help crack, beat and whisk the eggs in the pot … with supervision, of course. You may have to watch for some stray bits of shell during the cracking portion but otherwise, you'll be fine. If your kids are little or you're worried about them being around the stove, have them set the table, put out the breadbasket or arrange the plates. Having coloring books and toys ready is also a good idea.
Now that you've mastered perfect scrambled eggs try some of these other scrambled egg recipe ideas.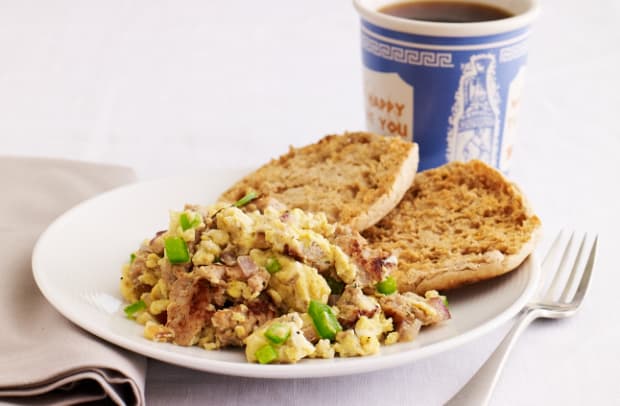 To all the Moms out there, have a super relaxing Mother's Day and enjoy all the pampering. You deserve it!
Hey, how are you planning to spend Mother's Day? Leave us a comment and let us know.