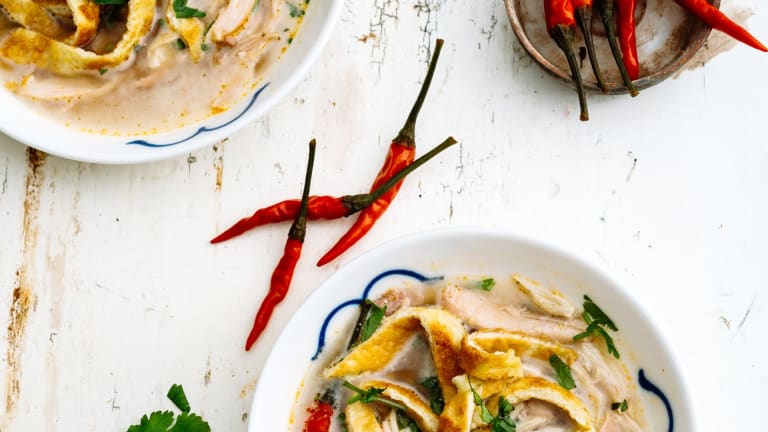 4 Passover Chicken Recipes You Have To Try
Spice up your Passover chicken this year with different flavors inspired by exotic locations. These 4 fun chicken recipes are sure to become family favorites, and you will feel good knowing that you are serving healthy, organic, un-processed foods. Start with organic chicken, which is antibiotic free, pesticide/herbicide free, and GMO free. Not only is it better for your health, but it is also tastier. With these yummy recipes, you can be sure to enJOY a healthy Passover!
THAI CHICKEN SOUP WITH HOMEMADE BONE BROTH AND EGG NOODLES
This comforting Thai Chicken Soup with Homemade Bone Broth and Egg Noodles is full of rich Asian flavors and organic goodness in every spoonful.  
MORE: Passover Cooking: Kosher Meat
SPICY ROAST CHICKEN WITH MEXICAN QUINOA
This Spicy Roast Chicken with Mexican Quinoa is a whole meal in one. The quinoa and chicken cook together with salsa and spices so the Mexican inspired flavors really meld together.  
MORE: Go Mexican on Pesach
This classic Chicken Pot Pie is comfort food in a ramekin. The individual portions give the dish a more modern look, and they are easy to serve.   
WATCH: The Best Way To Roast A Whole Chicken
ROASTED SAGE AND ROSEMARY TURKEY WITH SWEET POTATOES AND APPLES
This sweet and savory Roasted Sage and Rosemary Turkey with Sweet Potatoes and Apples is roasted slowly. The result is a juicy turkey that is perfect for Shabbat or the holidays, especially Passover.   
Want stories like this delivered right to your inbox? Sign up now for our *free* JOY of KOSHER Newsletter.