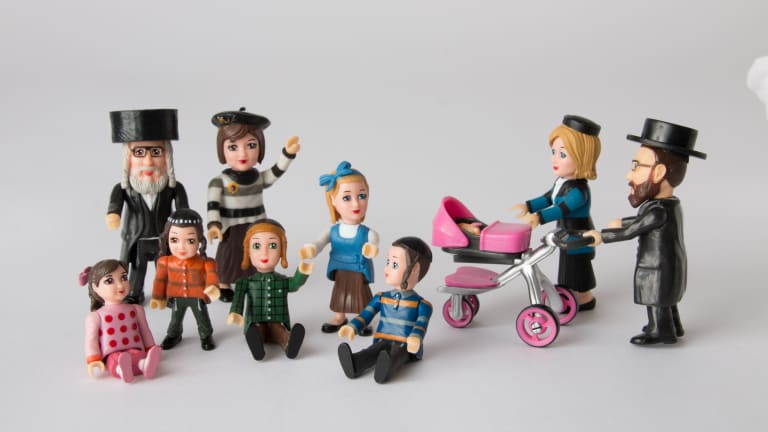 8 Gifts for 8 Nights
There's a magical quality to the 8 nights of Hanukkah - these nights are some of my most favorite of the year. Playing games with my family, illuminated by the flickering candles, with the aroma of frying latkes, set to the sounds of sufganiyot dancing in the pan is my kinda heaven on earth.
The best Hanukkah gift I ever received was my son Avraham Yitzchak (AY) who was born on the 5th night. After that nothing can compare. So short of giving the gift of life, here are 8 ideas for 8 special people in your life (with high-low options to accommodate every budget).
FOR THE KIDDIES:
We gifted The Shpielman's to our kids last Hanukkah and they're still shpieling 12 months later!
HIGH: Named a TOP TOY OF 2017 by Fox News, enhance "narrative based play" with this DELUXE Set of 11-Characters ($39.99). With additional interactive accessories (like challah board, kiddush cup, candlesticks and more) - this set is perfect for the little lights in your life!
LOW: This detailed and affordable 4-Character Combo Pack ($15.99) will be adored and treasured by your little ones for years to come!
FOR THE TEENS:
LOW: Chic, geometric, decorative desk décor pieces ($7.99) will bring a bit of bling to any bedroom!
HIGH: These Angled Initial Necklaces ($79), featured in the latest issue of our Magazine, are a timeless and elegant option for your young lady.
FOR THE HUBBY:
LOW: Your biggest supporter can do it all, which is why this  Barbarian Bar Tool ($44.95) is perfect for him! This multitasking tool (citrus press, channel knife, zester, cork and lever, can lance, bottle opener, jigger + 2 knives) is basically a 9-in-1 miracle! 
HIGH: My Hubby is realizing his dream with a SmartWatch this Hanukkah. While he counts down the days, I can't understand why anyone wants to talk into their wrist?! If you're gifting your lucky love a digital wrist ticker be sure to get him a watch that's compatible with his  phone. iWatch ($549).
For the Best Friend:
LOW: Your sister from another mother gets a gift that's both beautiful (like her soul) and practical (like her advice). The eco-friendly Moso Dishwasher-Safe Bamboo Peacock Serving Bowl Set ($27.99) can easily go from everyday to holiday.
HIGH: Hand carved from solid gemstones, Tigela Bowls ($205-$1000 - available in sizes small to XXlarge), are a work of art. If you're looking to buy me something this Hanukkah we can be besties! (PS the Amethyst one is calling my name, can you hear it too?) 
FOR YOUR MOM:
LOW: Whether mom-by-birth or mom-by-marriage she's always the balabusta. Feeding the entire family is a responsibility she shoulders with love and grace. Gift her something she can really use like the Anysharp Metal PRO Sharpener ($21.99). I always say, the most dangerous item in the kitchen is a dull knife! So keep momma safe and match her decor by selecting from one of 9 different colors.
HIGH: This is the kitchen tool that does it all for the woman who does it all. Perfect for shredding latkes, cabbage or really any veg for soups, stews, salads and sides, the Cuisinart 14 Cup Food Processor ($199) is sturdy, reliable and easy to use and clean. While the famous "kugel blade" is not available in this model, we recommend using the grate attachment and then process using the s-blade for perfect results.
FOR THE TEACHER:
LOW: She inspires, nurtures and invests so much in your child's growth. Write her a cute little note along those lines and send along with these 30 Succulent Cuttings ($26.93) inspired by our Hanukkah Judean Desert Tablescape designed by NY party producers Mimulo.
HIGH: Monogram Contemporary Champagne Flutes ($64.00 for set of 4) are a more elegant take on the classic "give your teacher a mug" gift. Personalize the flutes as a thank you for the personalized attention she bestows on your child everyday.
FOR THE HOSTESS WITH THE MOSTESS:
She's the one hosting the annual family Hanukkah party - the one you're SO thankful isn't you. It's hard to host that many people, so her gift should really be something special to thank her for all her hard work. This Brass Inlay Cheese Board ($38) is exquisite!
HIGH: For an all purpose party platter, gift this Transatlântica Medium Oval Platter ($79). We photographed everything on this dish for the Hanukkah issue of our mag. This is the year's best Hanukkah party platter.
FOR YOU!:
You're so so SO busy frying and buying for everyone else that it's easy to forget to treat yourself. Time to do you and buy yo' self a little somethin' somethin'! This amazing reversible black and green jacket ($150) I just wore for a shoot is pricy but... you can wear the black jacket to one Hanukkah party, turn it "inside-outside" (as my 6-year old likes to say) and then wear the green jacket to another Hanukkah party (WITH THE SAME PEOPLE). This is the ultimate "two for one!"