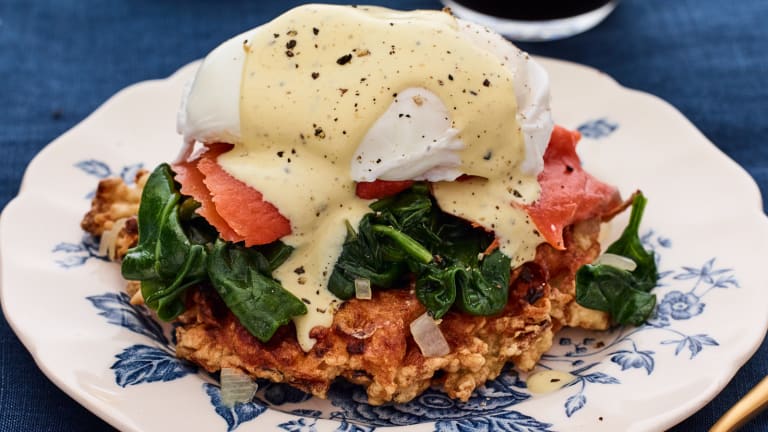 A Hanukkah Brunch Party Menu
We have shared tons of recipes for Hanukkah, menus for Hanukkah and tablescape ideas.  
The other day, someone on facebook asked for menu ideas for a day time party.  She said they were having a family get together the Sunday Hanukkah and were going to be having brunch, what did we suggest.  
I realized that we never shared a menu for people to use during the day.  Most people stay together for a Hanukkah party so they can light candles together, but that doesn't work for everyone and some people need to get their kids home and to bed early (I remember those days).  Some people might even call everyone over for lunch and then the family can stay through to light candles and still get home for dinner.   
So, let's thank our Facebook friend for reminding me to share this menu.  My feeling is that most of the daytime parties will be on Sunday, which means brunch goes all day.  And since latkes are always in order, a brunch menu is perfect.  Latkes go so well with eggs and/or smoked salmon, the possibilities are endless.
Honestly, I can't decide, so here are a couple menu options...
Menu 1
This is a latin inspired meal combining the influences of Spain and Mexico, I would lay out a platter of tortilla chips, salsa and guacamole.  Maybe some plantain chips if you like and/or vegetarian empanadas, then serve the following menu.
Potato Pancakes with Guacamole and Poached Eggs
If you never had avocado toast on a latke,  you never had the best avocado toast in the world.  Crunchy and salty it is the perfect base to your avo and egg. If you don't feel comfortable poaching, go ahead and use a fried egg.
I love how light and flavorful ceviche is and how well it goes with everything.  Get some added protein with this simple cold fish dish that you can easily make a few hours ahead. Serve in martini glasses for an elegant presentation. 
Cucumber And Black Bean Salsa Salad
Another perfect salad for the side of your decadent latke, it also great with your tortilla chips. 
Sparkling Mango Strawberry Sangria
Don't leave out the festive drink - this one can be made without alcohol too.
And for a twist on traditional doughnuts, try the Churro.
The churro is Mexican and Spains version fo doughnuts and is perfect when dipped in a hot chocolatey dip, yummy!!!
Menu 2
This menu is a more classic brunch stepped up a bit.  You could easily just serve your favorite potato latke with smoked salmon on top.  If you haven't had it before, you will wonder what took you so long.  
For this menu you could leave out a platter of crudites, some nice vegetables with dip, like this Blue Cheese Dip.  Maybe some olives and pickles too or even a hot Spinach and Artichoke Dip with french bread.
Latke and Smoked Salmon Benedict with Brown Butter Hollandaise
As I said, you can keep it simple and just serve latkes with smoked salmon or you can take it over the top with this recipe by adding spinach, an egg and a creamy sauce. 
And something a bit lighter to serve is fruit and yogurt parfaits with granola, either set them up in little cups or lay everything out on a buffet and let everyone make their own.
Go with a simple mimosa for the beverage of choice with this meal.
Make sure to put on a rich pot of coffee and serve with these sweet doughnuts, if you don't like lemon we have so many other amazing doughnuts ideas to choose form. Browse through our doughnuts here. 
Have a very happy Hanukkah!!!