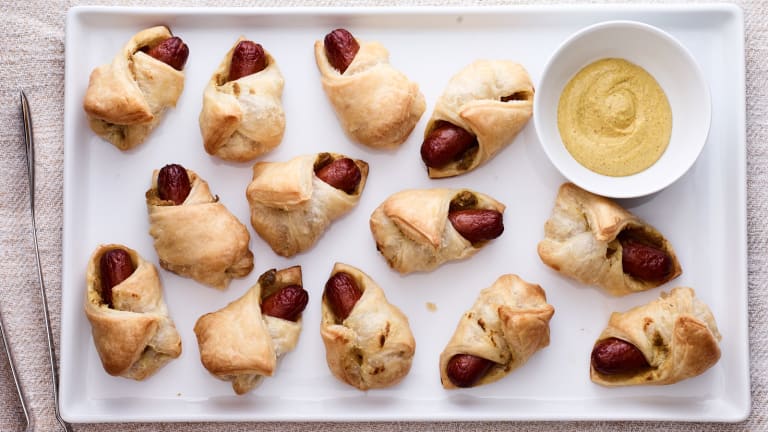 Father's Day on a Budget - 5 Wallet-Wise Ways to Celebrate the Dads in Your Life
The third Sunday in June is Dad's special day. These 5 budget-friendly approaches will help make Father's Day fun.
As you think about the possible ways you might spend Father's Day – walking around town, playing sports, perhaps a fishing trip – don't forget about the most meaningful meal you'll be planning. Not the one at the restaurant, but the meal, or party if you're adventurous, you can make at home, on a sensible budget.
Here are 5 ways to honor Dad without stretching your wallet:
Honor Dad with a Breakfast Celebration
Waking up to a scrumptious breakfast tray isn't just for mom.  After all, who can resist a custom-made breakfast?
Plan a menu featuring his favorite breakfast foods like omelets, pancakes or waffles.  To go all out, make a bread basket with a few bakery items like bagels, muffins or scones, and include a yogurt parfait by adding a scoop of yogurt to cubed fresh melon.
Don't have time to cook?  Pick up some quiches which come with a variety of fillings like broccoli and cheese, spinach and cheese, and mushroom and onion.
Budget Party Tip:
Get the kids involved.  They can pour the juice or prepare the condiments. Instead of buying Father's Day cards, adorn the breakfast table with the kids' homemade cards.
Throw Papa a Tailgate Party
Enjoy Father's Day with a tailgate party in honor of Dad and his favorite baseball team.  Whether you celebrate in the stadium parking lot or from your driveway, spend the afternoon cheering Dad's team.
Before Father's Day, wash your car and clean the inside so it will be ready for the party.  Then, decorate the car with pennants or use window markers to paint the windows with the team's colors or letters.
Prepare easy-to-carry dishes like potato or pasta salad, and chips and dip.  Pack a cooler with ice to transport your grilling essentials: hot dogs, hamburgers and seasoned and marinated chicken wings.
Budget Party Tip:
If the tickets are too expensive or if Dad's favorite team is on the road, host a tailgate party at home. Park your car in the driveway and decorate it with the team's colors. Drag your television (with a long extension cord) and chairs onto the lawn so you can enjoy the game –and the eats—from the comfort of home.
Make Father a Favorite Food Bonanza
Use Dad's favorite foods as a theme for a delicious lunch or dinner.  Make a few versions of specific cuisine he loves and invite friends or family to dig in.
Whether you host a cholent cook-off, a chili fest, or an Italian pasta bar, Dad will be touched that you planned a party around his favorite eats.  
Budget Party Tip:
If you expect a big crowd, ask a few friends to bring their own version of Dad's favorite food.  This way, the group can decide which type of cholent, chili or pasta they like best.
Treat Daddy to Burgers and Beer

If you don't have a lot of time to plan a party, nothing gets easier than inviting Dad's friends for an impromptu lunch of burgers, dogs, and beer.  All you have to do is fire up the grill and throw on the burgers, bring out the ketchup and mustard, and pop open the drinks.
Budget Party Tip:
Save money by opting for a family pack of ground beef and forming the burgers yourself instead of buying pre-shaped hamburger patties. Purchasing beer in bulk from a wholesale club will be a considerable saving instead of buying six-packs from a local store.
Hold a Neighborhood Poppa Potluck
When you want to celebrate a meal with friends but don't want to cook? Call in the reserves.  Invite friends and family to a potluck dinner in honor of all the dads, on the condition that each family brings a distinctive dish their dad loves.  Make sure to let the guests know if you will be serving a meat or dairy meal so everyone can coordinate their food.
Budget Party Tip:
Pool together everyone's assorted paper goods so the expense won't fall on one person.
What do you think, would dad rather have a party or a quiet day by himself?