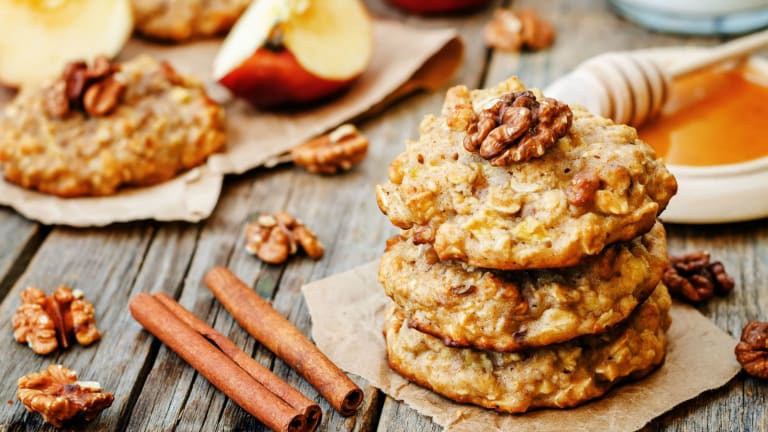 Gluten Free Rosh Hashanah Recipes
As Rosh Hashanah approaches I reflect on the traditional dishes prepared for the holidays by generations of my family, sweet gefilte fish, brisket, kugel and golden honey cakes. And then I think of the reality of my family's dietary needs and contemporary tastes. Kugels are few and far between in my gluten free and egg free holiday menus. Instead I rely on alternative side dishes made from rice, quinoa and cornmeal. Baked fish dishes, redolent with fresh herbs and savory sauces, take front seat to the traditional gefilte fish rolls. And, baked goods stray from the traditional, while still retaining the beloved seasonal ingredients like apple, honey and cinnamon.
I believe it is important to preserve cultural and familial culinary traditions, and at no time is it more important than during the holiday season. But, sometimes current family needs like food allergies require a new twist on traditional foods. In the same way that there likely wasn't kugel and kreplach in the midbar, so too in the present day we've "wandered" into new and exciting culinary territory, which incorporates new ingredients like Asian rice paper wrappers and polenta into our holiday menus.
All the ingredients in these recipes should be readily available at your local supermarket or kosher specialty store with reliable hechshers. Make sure all the ingredients used are gluten free and allergy free, as needed to accommodate your family and guests on special diets, so that they too can have a happy and healthy new year!
It will still technically be summer when Rosh Hashanah begins this year, so a fresh and delicious Asian style summer rolls filled with some of the traditional simanim eaten on Rosh Hashanah night is a beautiful and light way to begin the festive meal.
Sweet, slow cooked briskets are a traditional way to honor yom tov with basar v'yayin (meat and wine). This contemporary take on brisket relies on root beer and brown sugar to elicit a tender brisket with a lovely caramelized flavor. Use a mix of Spanish, Bermuda and Vidalia onions for a more complex flavor.
In Ashkenazi tradition, sliced carrots, whether in soup or tzimmes, are served on Rosh Hashanah to symbolize gold coins as a segulah for financial prosperity in the coming year. In the same vein, these polenta sticks resemble little bars of gold. Their unique taste and texture are a nice change from the common gluten free side dishes of potatoes and rice!
Honey cake and apple cake are long standing Rosh Hashanah favorites, but making them egg free and gluten free, as necessary for my family's dietary needs, has proven to be a challenge. But, like life in general, if there is a barrier down one road, you must pursue an alternative route to reach your destination. These apple and honey oat cookies are just the thing to please young and old at your holiday table and festive kiddushim. In addition to being gluten free, these cookies are also vegan.