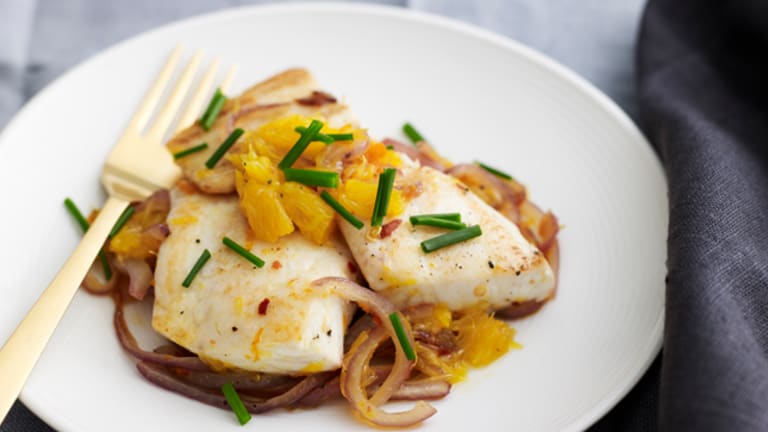 Pre and Post Fasting Tips
This year Tisha B'Av is on Sunday.   Most of us typically have large heavy lunches on Saturday and then very small lighter dinners.  This week I would suggest a switch.  
Stick with a nice hearty lunch, but hold back a little, be careful with the salt and leave enough space to eat a filling dinner.    
Be sure to watch the wine and alcohol too, they are dehydrating and not the best idea before a fast.  And always drink lots of water, throughout the entire day.  Get more tips with these 5 Rules To Having an Easier Fast.
For the pre fast meal I recommend a light fish that can be served at room temperature.
PISTACHIO-FLAXSEED CRUSTED SALMON
The great thing about this salmon is the nuts for extra good fat to keep you really full all fast long, if you're not a salmon fan, try this SESAME TUNA WITH GINGER MISO DIPPING SAUCE or this SPICY CITRUS TILAPIA (photo above).
If you don't like fish, stick with everyone's favorite, chicken. 
5-INGREDIENT SAVORY BONELESS CHICKEN THIGHS - PARGIOT
Keep it simple with a grilled chicken, we love these boneless thighs with simple spices. 
On the side, serve whole grains or potatoes and veggies. 
3-INGREDIENT WHEAT BERRY SALAD
Wheat berries, are whole grain, filling and satisfying, the perfect side for your pre fast meal, fill it with more or less veggies. 
SWEET POTATO SALAD WITH TAHINI DRESSING
If you are more of a potato person, try this unique sweet potato salad, you will love it. 
Serve fresh fruit for dessert, nothing more. 
Just because you are fasting for one day does not give license to eat a day's calories in dessert, plus you already had a huge lunch probably with dessert, plus, sugar laden foods will actually make your hungrier.
Now, what about the break fast?
This is also not a time to binge and make yourself sick.  I highly recommend breaking the fast on a nice hot soup.  The warm liquid feels good and it slows you down from eating too much too quickly.  Then you can go on to the classic bagels and lox or eggs or you might decide this heart warming soup is all you need at 9 o'clock at night!!!
I love these soup ideas.
Light and brothy, but satisfying enough or for something a little more hearty try a bean filled soup with corn bread or biscuits such as
WHITE BEAN SOUP WITH LEMON AND GARLIC CORNBREAD
What do you plan to have before and after the fast this year?