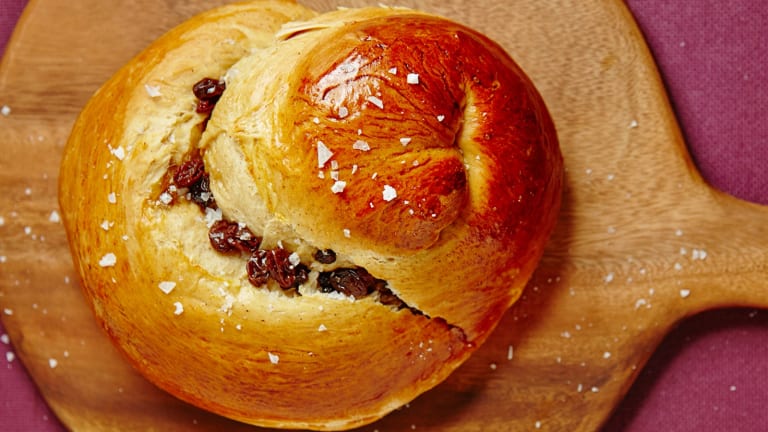 Rosh Hashanah Challah
I love coming up with crazy challah flavors to delight and surprise my friends and family throughout the year. 
But sometimes you want something classic: plain challah with sesame seeds on top, sweet challah studded with chocolate chips, or a perfect cinnamon-raisin challah. 
As we prepare to welcome Rosh Hashanah with sweet foods and prayers for the New Year, I wanted to take a classic sweet raisin challah and add in a signature cinnamon swirl stuffing for something that is a little traditional and a little wacky and fun. A bit like me. 
RUM RAISIN CINNAMON SWIRL CHALLAH
This is the kind of challah that feels almost like a dessert, particularly because of the cinnamon swirl inside – truly something special to celebrate Rosh Hashanah. I love an indulgent slice of challah with butter and a cup of tea or coffee on Shabbat morning, and this challah fits that bill perfectly. 
MORE: How To Shape and Stuff Round Honey Challahs
CINNAMON SWIRL FRENCH TOAST WITH CARAMELIZED APPLE SYRUP
But if you really want to take your Sunday breakfast over the top, save a few slices of this delicious challah to make a rich French toast topped with caramelized apple syrup that screams: Have a sweet and happy new year.