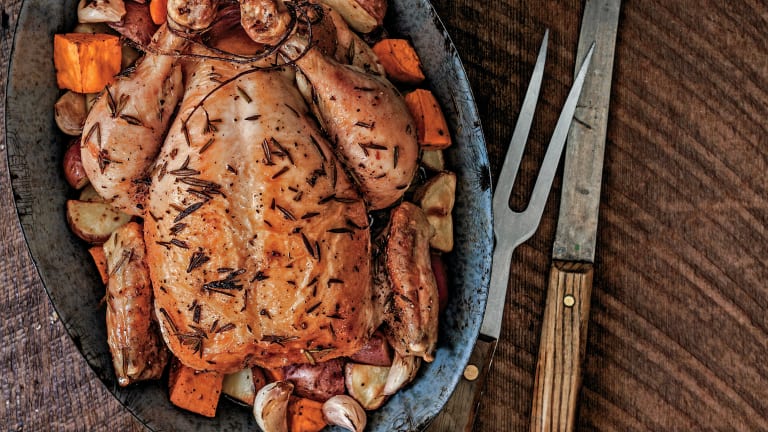 Your Rosh Hashanah Menu Is All Planned
Here you go, a full Rosh Hashanah Menu from soup to nuts (well nuts are optional) all planned and ready to go, no thinking involved.  This menu is easy to pull together for even the novice cook and holiday host and includes many recipes that can be made ahead and frozen or stored until the big night comes along. 
We also don't feel guilty taking a few shortcuts from our neighborhood supermarket, bakery, etc.  Kosher challah -check, kosher wine - check, kosher pareve desserts - check. Go ahead and let your local stores be your assistant chef as you prepare to have a sweet and more relaxed year. 
We never know if it will be hot or cold in mid September, that is why I chose a soup that follows suit.  This carrot ginger soup can be served hot or cold and it just so happens to go well with your extra apples and honey too.
MORE: ROSH HASHANAH SOUPS
Italian Fish with Raisins and Pine Nuts
It is customary to serve a whole fish head on Rosh Hashanah to symbolize that we should be at the head this year, we should be great leaders, but I don't love the idea of a huge head on my table, so try serving small fish, like Mullet or Sardines if you can get them.  
Feel free to leave out the pine nuts if your custom is to avoid nuts on Rosh Hashanah.
Shredded Lamb with Tomato and Basil Over Rice 
This lamb dish can be made in a slow cooker and reheats really well too, it would normally be a one pot meal, but for Rosh Hashanah it is one of the pots.  Feel free to use beef or chicken in this recipe.  
Apple Stuffed Roast Chicken with New Potatoes
This chicken is just asking to be made for Rosh Hashanah and is gorgeous enough to be your centerpiece. 
Spicy Sauteed Leeks and Spinach
Complete the feast with a bit of green that just so happen to be simanim. 
MORE: SIMANIM INSPIRED MENU
Israeli Fruit Salad with Pomegranate
For dessert pick up the traditional foods at Winn-Dixie and just make a gorgeous and flavorful fruit salad.
MORE: FRUIT SALAD WITH HONEY LIME DRESSING