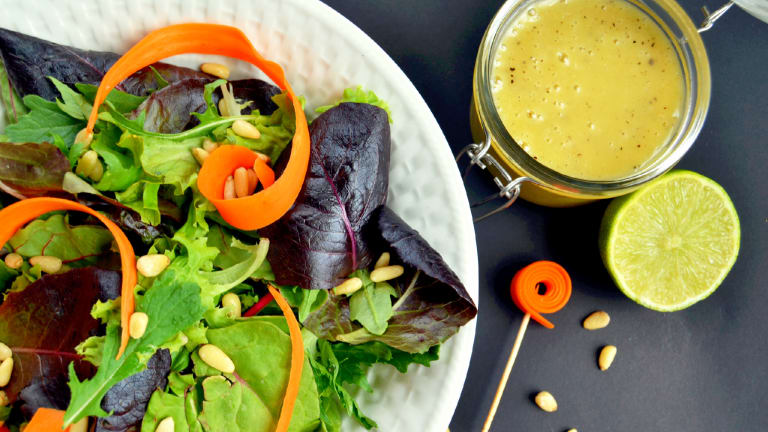 Shabbat Menu - Salad With A Honey Lime Vinaigrette
In this parsha, Moses sings a final song before ascending Mount Nebo.  He earlier reminds the Children of Israel of the days of old, when Hashem guided the people through the wilderness, "allowing them to ride upon the high places of the earth, that they would eat the produce of the field. He let them suck honey from a rock, and oil from the mighty part of the crag."  In this Shabbat Menu we savor both the sweetness of the honey and the earthiness of the oil with our Honey Lime Vinaigrette adorning the produce of our field in this spectacular salad.
SALAD WITH HONEY LIME VINAIGRETTE
Honey and lime makes a simple delicious dressing for your favorite greens. We love it dressed up with these carrot ribbons and pine nuts, but you should make it with whatever you have in the fridge.  It would be an amazing dressing for slaw too. 
Enjoy the bounty of the end of Summer with ratatouille.  It's simple to prepare and this recipe includes the chicken so you can make your main and veg in one pot.  It's so fresh and healthy and can be eaten hot or cold. 
HERB ROASTED RED BLISS POTATOES
Everyone loves roast potatoes.  This simple recipe is my go to for a family favorite side I can prep in minutes. 
MINI CHOCOLATE COCONUT SANDWICHES
Make dessert simple, you don't need more cooking in your life right now.  This recipe takes two store bought items and turns them into 1 delicious dessert.  You can make the cookies yourself if you really want too.