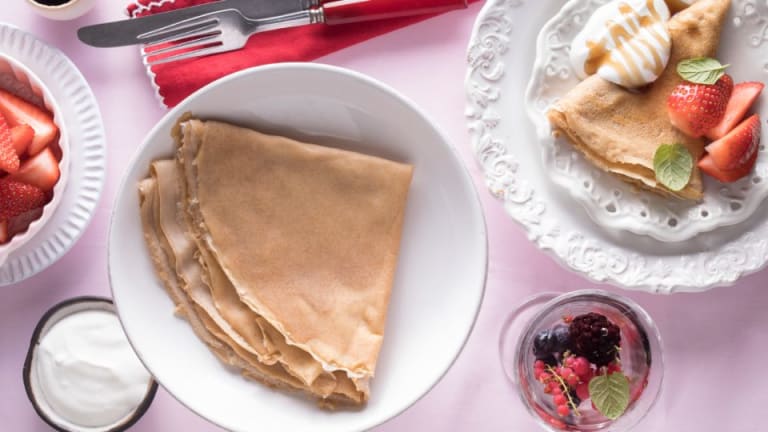 What's The Difference Between Crepes and Blintzes?
I was wondering this the other day while thinking about the traditional Shavuot recipe for cheese blintzes.
I never cared for cheese blintzes, the only blintzes I liked as a kid were potato blintzes.  Those frozen potato blintzes that used to spark riots at summer camp now seem like carb overload.   Plus, they're kind of boring.  Yet, on my first trip to Paris, I couldn't wait to get a taste of the classic French Crepe.  Amazing how changing the name makes all the difference!
My first taste was a Crepes Suzette covered in everything (whipped cream, chocolate shavings, even a cherry on top) and flambéed tableside. I was incredibly disappointed.  It reminded me of those too sweet fruit blintzes I used to run away from.   Luckily I didn't give up.  On my last day in Paris, I stumbled upon a hot crispy Nutella-filled crepe that changed my life.  It made me realize that the reason I never really liked blintzes is because I never really had one that was freshly made or filled with the things I like!
So, back to my original question, crepes and blintzes are really the same thing, just a slightly different genealogy.
Both crepes and blintzes are a thin cooked pancake made from wheat flour and prepared either sweet or savory.  They can be rolled or folded and filled with all sorts of ingredients -- meats (when using non-dairy milk in the batter) or cheese and vegetables to chocolate and fruits.  Crepes came to us from Europe while Blintzes have a Slavic history that brought them to Russia as the Blini until they eventually turned into the Blintzes we know today as a classic Jewish food.
What I learned from this short history lesson is that the frozen cheese and fruit-filled blintzes of my past were not for me.  I love blintzes cooked fresh and crispy and (more often than not) filled with savory ingredients.  There are plenty of sweet cheese blintzes, fruit blintzes or crepe recipes on this site, but for those who want to stroll down the savory lane, stick with me.
Here is my recipe for Savory Crepes/Blintzes. Enjoy with your choice of filling or mine.
If you've ever been to Paris you might also be wondering, What is a galette?
A Galette is France's lesser known crepe is actually made from buckwheat and usually served savory. They are basically thin pancakes and make a delicious breakfast on their own topped with fresh fruit and yogurt.
Which is your favorite?