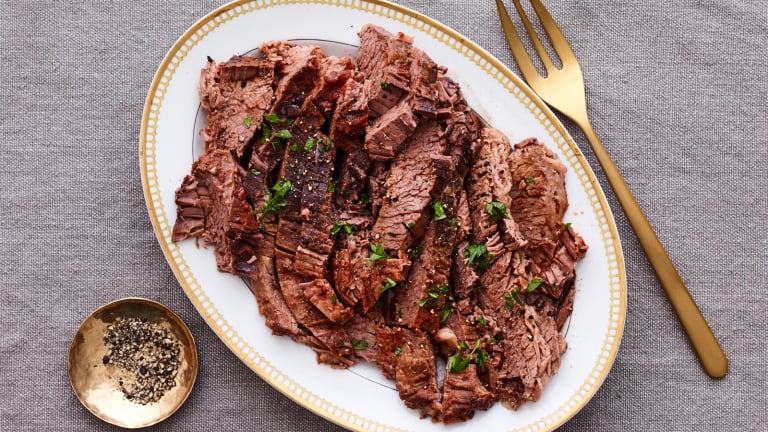 Saturday Night Seder Menu
This year the seder falls on Motzei Shabbat.  That means we really have to get everything ready early and we have an extra day of Passover!
Make things really easy and sign up for our full Passover Menu Plan, plus you will get access to our new app and meal planning for the whole year. 
In the meantime here are some ideas for a make ahead seder. 
Many of us have the tradition to start the seder with a hard-boiled egg.  Go ahead and try these  Onion Skin and Tea Infused Eggs for a fun change.  
Matzah Ball Soup reheats beautifully so no need to mess with that tradition, aside from trying these Carrot Dill Matzah Balls.
Now, on to the mains. 
One of the best ideas is a super large brisket, this is a traditional seder recipe for a reason. The main one being it tastes even better when cooked ahead and served the next day. But any braised meat can work well the next day (just use potato starch for any recipe that calls for flour), from short ribs, to osso bucco, to beef stew will be perfect for your make-ahead seder.
After that comes a saucy chicken that won't dry out when reheated and this Speedy Coq Au Vin has just enough wine to do the trick.
For the sides, Kugels are always good and so are the soups. Here is a new menu that won't take too much time to prepare.
They sit perfectly on a bed of mashed potatoes or mashed sweet potatoes, which also happens to reheat well.
These Spicy Sauteed Leeks and Spinach will reheat well and add a bright color to the plate or you can simply roast asparagus or broccoli quickly while everyone is eating the soup.
For dessert this Olive Oil Chocolate Mousse is the perfect end to a perfect meal.
Let us know what you plan on serving in the comments below.