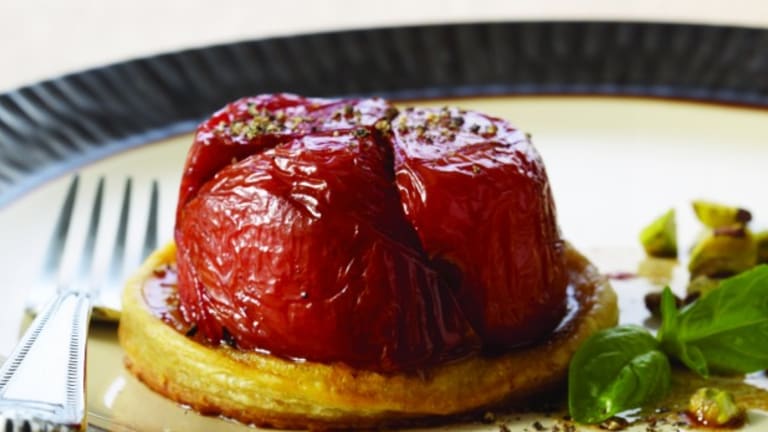 10 Ways You Can Use Tomatoes
Don't you just love tomatoes in the Summer?  Unless you live in Israel (finally, recipes we can use all year), the fresh tomatoes during the year can make you forget that you even like tomatoes.  I can usually do okay with grape tomatoes all year, but you can't do everything with those little guys and when you actually get a fresh juicy red ripe tomato you must find fresh juicy ways to use them.
Tomatoes also hit the antioxidant jackpot. They are very high in Lycopene, an antioxidant that has been linked to cancer prevention. Tomatoes are also high in Vitamin A and C and vitamins that help reduce the risk of heart disease.
Here we are sharing 10 fresh ways to use tomatoes that are worth a trip to the Farmer's market or just might convince you to grow your own next year.
Make sure to tell me what you think of this list of recipes. 
You can slice tomatoes and layer atop a thin sheet of puff pastry or spend a little more time with your tomatoes and pastry and make this gorgeously presented tart.  I am thinking this would be a really nice high holiday recipe, it even has some honey.
Eggplants are also in season right now and they pair beautifully with tomatoes.  Try this spread on bread as written for a crostini or serve as a salad or spread with pita and hummus.
A classic end of Summer treat, but they really can work with any firm tomato.  My sister in law confessed to making these nightly to put inside a grilled cheese using those 100 calorie sandwich thins, how would  you eat them?
Tomato salad is always a great choice with fresh tomatoes, just sprinkle over some basil, salt and pepper and maybe a drizzle of good quality olive oil and you are all set.   Turn that into a meal by adding some tofu and serving with some crusty bread.
Roasted Tomatoes with Blue Cheese
When you just want to add a little color to your plate, try a roasted tomato.  You can simply top it with breadcrumbs for a tasty side, but this version steps it up with a bit of blue cheese.  Would be wonderful along side a light flavored fish.
Fresh Tomato Soup with Harissa and Yogurt
Of course tomatoes make amazing soup of any kind.  I love any of our 16 gazpacho recipes, but for a change this tomato soup mixes in harissa and yogurt.
Matbucha can and is made all year, but it really is not the same as when you make it in the Summer with fresh tomatoes and fresh peppers.  I highly recommend you take the time and make a big batch in the next few weeks when these vegetables are at their peak.
Don't forget that tomatoes make great disposable bowls.  Just core them and stuff them with anything you like.
Grilled Corn, Basil and Tomato Salad
Last, but not least, make fresh tomato sauce for pasta or pizza or really anything.  When the tomatoes are overflowing and even overripe you can turn them into a flavorful sauce that you can freeze or can for use all year long.
Do you have any new tomato recipes?