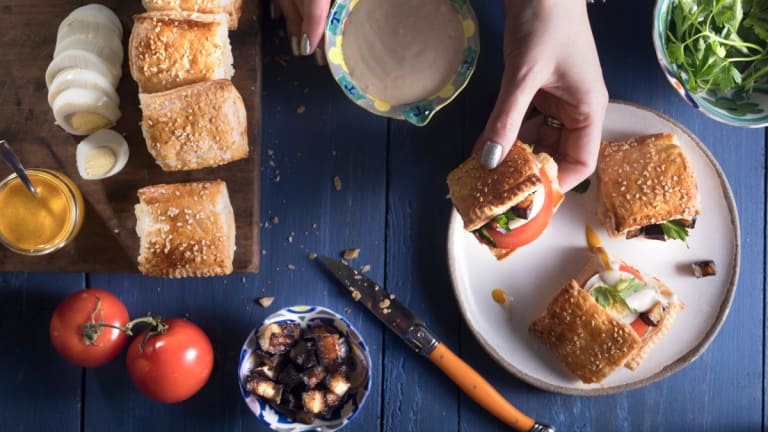 Back to School Snacks: Israeli Style
The Israeli kitchen pantry is full of its own unique set of ingredients. Most of these, like hazelnut chocolate spread, tahini, silan, dried fruit are widely available in the states as well. As a large part of the Jamie Geller family resides in Israel, we thought it would be fun to put together a list of traditional back to school snacks with Israeli ingredients taking center stage. 
Traditional school snacks and lunches have a healthy focus, as the Israeli government has banned sugar and fatty snacks from its cafeteria's in an effort to enforce healthy eating habits from a young age. Pita, feta cheese, fresh vegetables, hummus, seasonal fruit and various vegetarian patties are popular choices for lunches and snacks. 
A take on the classic pb&j. You can sub your favorite fruit jam in place of the silan for a tahini and jam sandwich.
Puff pastry dough is all the rage in Israel and easily available, so use that in place of making your own dough. Use edam cheese in place of mozzarella to keep it more Israeli. 
These are the perfect on-the-go meal and authentic Israeli fare. 
VEGETABLE & CHEESE STUFFED PITA
Use pita bread to put an Israeli twist on quesadillas.
DATE AND BITTERSWEET CHOCOLATE BALLS
A healthier alternative to classic chocolate chip cookies, these delicious truffle-like treat give a huge boost of energy.
Halva and pistachios 'Israeli-fy' classic American granola bars.