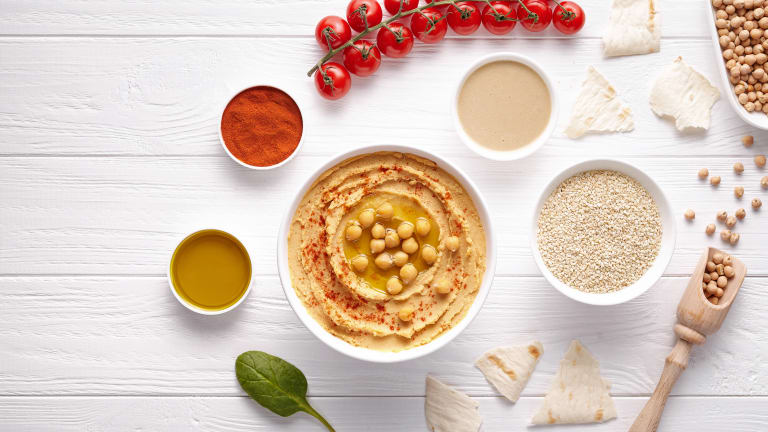 How To Stock Your Pantry For Easy Israeli Cooking
There are certain ingredients that everyone should have in their pantry to make every day dinners feel like a trip to the Shuk.  We are all about making dinner time easier and using easy to find ingredients you already have in your house.  We also can't get enough Israeli flavor in our lives and in our bellies.  Here is our list of 10 pantry staples for your Israeli kitchen. 
POMEGRANATE MOLASSES
This simple syrupy ingredient will become your go-to arsenal garnish for everything from drizzling on vegetables, fish, chicken, and beef to mixing into your favorite martini.
Not too sweet and not too sour, Pomegranate Molasses is the just right flavor enhancer.
Pomegranate molasses can be stored for months in your refrigerator. Get our recipe to make your own or buy it here. 
DRIED or CANNED CHICKPEAS
Cheap and loaded with protein, these little nuggets can be cooked and used in salads, veggie burgers, homemade hummus (wayyyy better than the purchased stuff), and crispy chickpea snacks. Soaked overnight you blend them up with fresh herbs, cumin, onion and garlic and you have homemade falafel (which can be frozen). Sure you can use canned chickpeas, but you have more control when cooking them from dried. 
SESAME SEEDS AND TAHINI
Perhaps you already have a jar of tahini in your fridge or pantry, but I bet you do not "play" enough with your tahini. Drizzle this savory and nutrition packed ingredient on your yogurt and your oatmeal and your salads.  Use tahini for babaghanoush and homemade hummus. Also try tahina drizzled over grilled vegetables, meatballs, your favorite grilled meats and fish. Make vinaigrettes with tahini and WOW your friends and family with something different and interesting tonight.  Sesame seeds can be added raw or toasted to garnish everything or to star in these Energy Bars. 
SILAN (DATE HONEY)
Date honey AKA Silan is a fruit syrup extracted from dates.  It is similar to regular honey, but darker in color and richer in flavor.  It can be used in place of honey and maple syrup in many recipes for more depth of flavor. Just be sure to buy the kind made from 100% dates, we don't want any added sugar, get Silan here. 
HARISSA
Step aside hot sauce. Harissa is a powerhouse of not just heat, but also flavor, (kudos to the 3 C's- caraway, cumin and coriander, that just make harissa complex and deeply flavored). Buy harissa or make it. Either way, just use it. Too hot? Dilute the hot paste with honey and orange juice to tame the heat. Shmear meats, veggies, fish and poultry with harissa, then grill! Toss with pasta and roasted vegetables. Dollop on a burger, or hot dog (take that hot dog and ketchup eaters!) add some zip to vinaigrettes.  Get my recipe for Classic Harissa or try  Apricot Harissa Dip or get our Jamie Geller Harissa spice blend on Amazon now, just mix with oil or water to use as a paste. 
ZA'ATAR
It is hard to find a menu that doesn't have Za'atar somewhere on it, in the US and beyond. Israelis sprinkle za'atar on everything and you should too. Well, almost everything! Vegetables, meats, fishes, poultry, homemade bread, yogurt bowls and egg dishes. It's not so easy to find a great Za'atar in the US so we made our own and now you can order it on Amazon, get Jamie Geller Za'atar here. 
SHAWARMA SEASONING
The flavor profile of shawarma seasoning can be savory and aromatic with ingredients such as cloves and allspice and/or it can be spicy with cayenne peppers. Now you can get our Jamie Geller Shawarma spice blend at Amazon.  This spice blend is perfect on grilled meats and vegetables, you can also add the mix to tomato soup, meatballs, roasted potatoes and more. 
SUMAC 
Sumac is one of the ingredients in za'atar.  The ground sumac is a versatile spice that adds a bright vibrant red color and tangy, lemony taste to everything you put it on.  Try our Fish Kabobs with sumac.   Get Jamie Geller Sumac here. 
PRESERVED LEMONS
Preserved lemons are hard to find in stores and even if you do, they are pricey! Make your own! WHY? Because preserved lemons add that je ne sais quoi (something with an indescribable quality). I always have a jar, or two, in the fridge. They last forever. Simply rinse off the brine and pull out the flesh. You eat the rind! It is sublime and softly lemon flavored. Dice it up and add to rice and grain dishes, purees, salad dressings, chicken, fish dishes, desserts and more. 
ORANGE BLOSSOM AND/OR ROSE WATER
These are great to add to custard based desserts or even Malabi and to sprinkle over fresh fruit, but you can add this to gremolata for a Moroccan edge and serve with lamb. Delicious sprinkled over yogurt bowls (savory and sweet) and a splash over roasted beets takes those beets to a new flavor height.  Buy them here. 
And here is one extra for those that like spicy foods.
SCHUG
One hot sauce is not enough. Schug is harissa's brighter and lemony cousin. Typically made with fresh herbs and lemon juice (or your preserved lemons!), schug can be served on eggs, veggies, fish and a steak, sizzling right off the grill. YUM! Where harissa is dark and complex in flavor, schug is like a sunny day. A spicy HOT sunny day! Try this recipe for green schug.