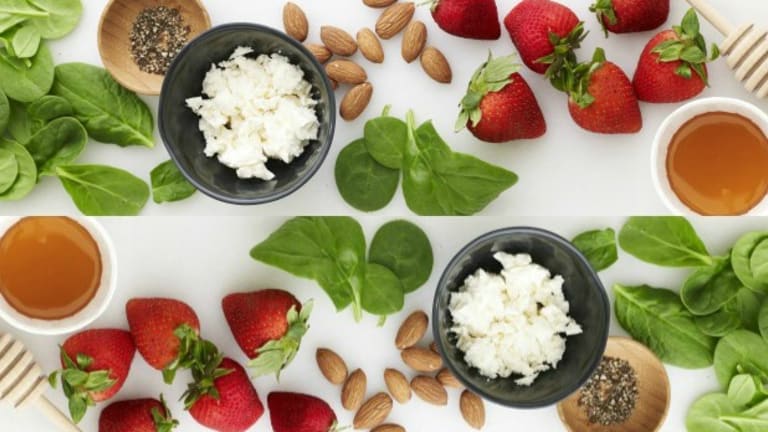 Cooking with Kids - Salad with Fruit
Long, summer days are the perfect time to introduce colorful, fresh produce to young palates. Adding kid-friendly fruits like berries to nutritious greens like spinach and asking them to help prepare the vinaigrette makes it much more likely that they'll gobble it down. Let them create a clever recipe title that includes their own name, like "Joshy's Rainbow Salad," so they'll be more open to eating it.
Let's explore recipes for salads with fruit that are not fruit salads.  These are main course or first course salads, where the fruit adds a touch of sweetness but they are mixed with greens, and cheese and other savory ingredients.  A really great way to get more kids to eat their greens. 
The fantastic thing about salads is that kids can make the entire dish from start to finish since it doesn't involve working with heat.
This salad can be modified to your family's tastes by switching the nuts for seeds or the cheese for chicken. 
Little ones can do everything from combining the ingredients in a bowl to whisking the dressing to sprinkling on the cheese and nuts.  Get the kids in the kitchen with you and make this delicious Strawberry Pecan Salad.
Have some more fun by making your own flavored Vinegars.  You can replace the balsamic vinegar in this Strawberry Salad recipe with your own flavors of vinegar. Use your favorite berries, or make savory varieties using garlic, basil, or other fresh herbs.
Enjoy this salad with loads of chicken in a sweet sauce along with thick cut pieces of your favorite peaches or nectarines. 
Blueberry, Peach and Goat Cheese Salad
This one gets loaded with fruit including both blueberries and peaches in a gorgeous Summer salad perfect for a picnic. 
More savory salads with fruit...
ROQUETTE SALAD WITH PINK GRAPEFRUIT
FIG AND BLUE CHEESE SALAD WITH BALSAMIC