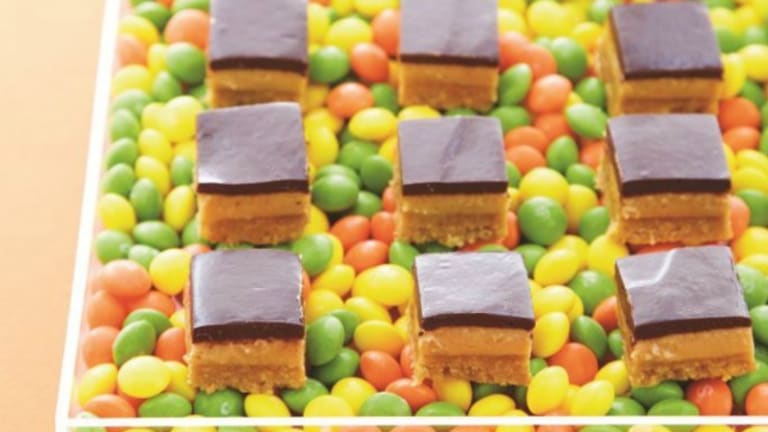 DIY Candy Recipes: Just Like The Real Thing
If I was asked to define Purim, I guess you could say that on a very superficial level Purim means candy, and costumes, and candy, and more candy.
I was flipping through Martha Stewart mag and I saw a piece on candy- inspired desserts. What a great idea – a sophisticated spin on a candy bar! Anytime I see something that makes my mouth water, I'm gonna remember it, but this time I also cut it out and saved it in my Purim folder. Pulled it up last week and created a "Snickers Cheesecake" just for you. Well, ok, it's really for me, but I'm willing to share.
This delicacy tastes like it dropped straight from heaven, but you need to plan for it: it takes at least six hours of chilling time. But I promise you, it is SO, SO worth it!
What other "candy-inspired" desserts have you tasted? Better yet, if you could have your choice, what candy would you turn into a full-fledged dessert? What's your favorite candy bar?
Learn how to make your favorite candies in your own kitchen with these easy to follow recipes.  
This recipe for chocolate fingers will stay with me forever. 
RASPBERRY LEMONADE MARSHMALLOWS
Homemade marshmallows are nothing like the store bought, you must try them.  
MORE: You Made That? Gourmet Homemade Desserts
This is my version of the Krembo, a classic Israeli childhood snack. As kids, we'd get a box of twenty-four Krembos with a cookie base. We'd start eating away, and smearing these chocolate-covered marshmallow treats onto one another's faces. There are different ways to eat a krembo—some devour the entire chocolate shell first; others hollow out the chocolate by sucking out the creamy inside. I think the best way is on your own, without sharing. You can find them in supermarkets all over Israel, but they taste even better when homemade. If you're short on time (and long on children), you can use store-bought cookies as your base instead of making your own.  
MORE: All You Need to Know About Homemade Candy 
Mmmmmmmmm. Quite possibly the most genius combination of ingredients—ever. Give me chocolate and peanut butter in any shape or form, and I am good to go. It is my absolute favorite flavor combo; a perfect after-school treat or casual dinner party dessert. The bars hold their shape best if they are chilled until just before serving.  
MORE: What Makes Good Chocolate
WHITE CHOCOLATE, PISTACHIO, CRANBERRY, AND COFFEE BARK
It is always fun to make your own candy to serve with coffee after a meal and to have around the house to nosh on over chag. It also makes a great hostess gift. Place in a clear bag and tie with green and pink ribbons.  
MORE: DIY Girl Scout Cookies