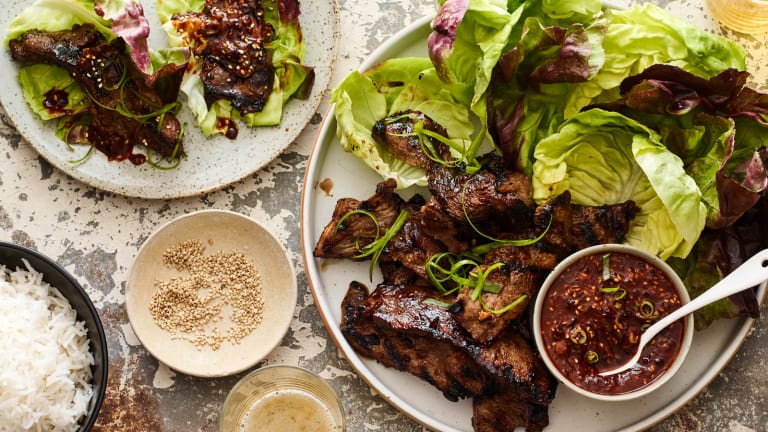 Easy Grilled Dinners
There really is nothing like the charred flavor and texture a grill brings to the dinner table. Grill season allows for some quick and easy family dinner options. As the heat of the grill is quite powerful, dinner can be ready in minutes. 
The following grilled dinner recipes will inspire many upon many family dinners and gatherings. 
Related: 6 Crave-Worthy Dinner Ideas
BUTTERFLIED HERB AND LEMON CHICKEN
Serve over easy couscous or grilled vegetables. Grill your lemons for an extra pop of flavor. 
These ribs are a savory-sweet and quick-cooking, fun dish. Traditionally served in lettuce wraps, you can add rice and a fresh salad to complete the meal. 
GRILLED SALMON AND VEGGIE BUNDLES
What a fun, quick dinner concept. Wrap your dinner in parchment, wrap it in foil, place on the grill and you've got a flavorful, gourmet dinner without the hassle of cleaning up. 
GRILLED CHICKEN AND OLIVE PANINI
This is an ingenious way to use leftover chicken. The chicken panini becomes a blank canvas for any of your favorite flavors.  
Full of flavor and texture is the way to go when indulging in a delicious, juicy burger. We like smoky-sweet grilled onions, crispy peppery pastrami and all the good toppings.  
MIDDLE EASTERN GRILLED MEAT PIZZA
Like an exotic Sloppy Joe on a delicious focaccia, this Middle Eastern meat pizza known as Lahmajoun is an unforgettably flavorful dish. You can use store-bought pizza dough. 
GRILLED FISH KEBOBS WITH TAHINI
Grilling fish is a super quick way to get dinner on the table fast with minimal clean up, especially if you eat outside  
Want menus like this delivered straight to your inbox? Sign up now for Jamie Geller's Weekly Newsletter.