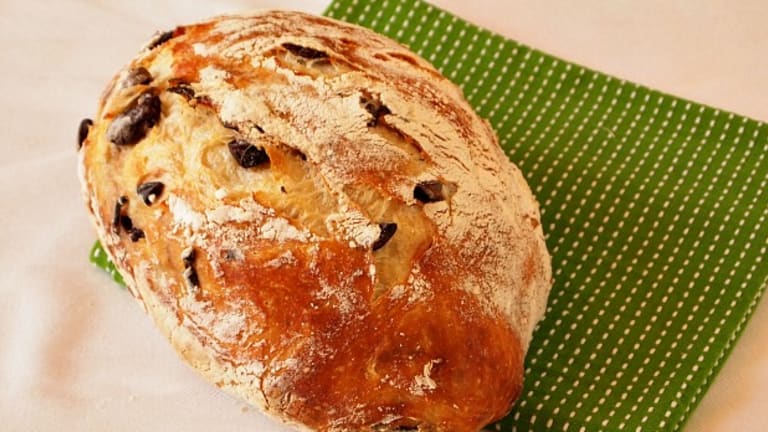 How to Make Homemade Bread Better than a Bakery
When I first read Hadassah's story about bread baking with Alan a few years ago, I was so sorry I missed it.   I was really intrigued by no-knead bread.  I kept it in the back burner and it took a few months to finally try it out for myself.  I wanted to make an olive bread, my favorite kind, so I found a recipe similar to Alan's but that left out the salt.  My plan was to make it for Shabbat, but as I am prone to skim through recipes without reading the whole thing (I know, rule number 1, read through the recipe) the 18 hour rise time passed me by and on Friday morning after I already put the ingredients in a bowl, I discovered this bread would not be ready for Shabbat.  
Instead of chucking all the ingredients into the garbage I covered the bowl and stuck it in the fridge in the hope of something halfway decent for Sunday night.  To my surprise, it was the best bread I had ever made!
This bread looked and tasted like it came from a bakery, I could not get enough of it and I couldn't believe how easy it was.  The following week I tried Alan's recipe, starting it on Thursday so I could have it for Shabbat.  FYI - I used half whole wheat flour and added roasted garlic and rosemary.  No one could believe I made the bread.
Now, fast forward a few years and I am a sourdough girl all the way, but for those of you just stepping foot in the bread baking world, I highly recommend you start with these no-knead bread recipes that use just a little bit of yeast. 
This is the first bread I ever made other than challah and I still think about it.  It doesn't always look as pretty, but it always tastes amazing. If you want to go sweet or plain or just add some garlic and herbs and use this Classic No Knead Bread recipe.   Remember to start the bread with at least 18 hours for it to rise, but it can rise even longer in the fridge. 
After you master the crunchy loaf, you might want to try this pizza dough.  I make a big batch of this regularly and then freeze the extra dough balls.  I use it for pizza and also for garlic flatbread.  I have tried many other recipes for pizza dough and nothing compares to this one in taste, so it's just lucky that it is also the easiest. This recipe is from Jim Lahey owner of Manhatan's Sullivan Street Bakery is the author of My Bread and now My Pizza. 
NO KNEAD WHOLE WHEAT PITA BREAD
If it could work for pizza it might work for pita.  I now make a batch of this pita every other week and it just sits in the fridge for me to make as much fresh pita as I need each day for up to two weeks. This recipe is half whole wheat.
I did try a few No-Knead Challah recipes, like this one, and they were good, but not quite challah.  Still good for a light and fluffy no-knead bread, maybe better as a loaf bread. 
The real deal for no knead challah finally happened a few years later, the only thing to remember is it needs even more time, so start this one on Tuesday. 
I also tried a 100% whole grain bread from Mark Bittman. This one was more of a loaf bread so I couldn't quite get the crust. 
Here's another great one, add some cheese to your bread.  Make sure to do something different so everyone knows it's a dairy bread, any hard cheese will work.
For something more interesting try this chocolatey bread.  Once you remember it is not a dessert and not sweet you will love it. 
I haven't tried to make a no knead bagel yet, but I have heard great reviews for this bagel recipe, watch the video and give it a try. 
 Do you have any tips for bread baking? Especially the whole grain and No Knead varieties?