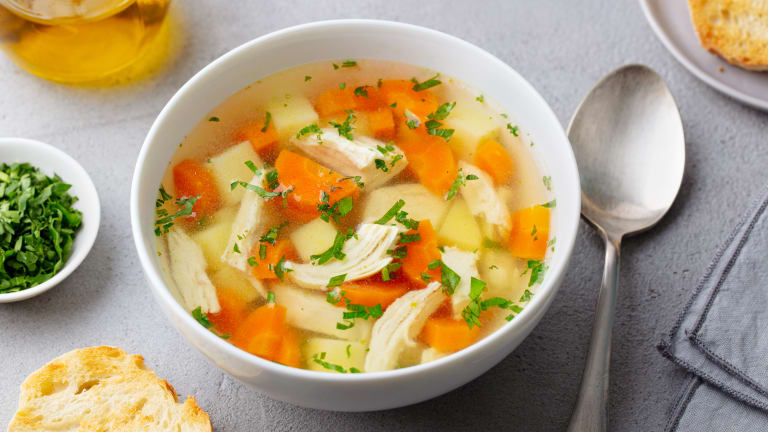 Jewish Comfort Food Is Chicken Soup
My grandparents, both sets, made the best chicken soup. Same like yours, I imagine. My father's side of the family made a deep dark richly flavored broth with spaghetti noodles. My mother's parents a light bright broth with square luckshen (noodles) and alphabets for us kids in the later years.
Yes, it's Jewish penicillin.
Yes, it's been known to heal a broken heart or two.
Yes, it's pretty much one of the best foods on this planet.
There is something intuitive and all too personal about making chicken soup. Like cholent, no two are alike. Quite like a fingerprint each chef whether following a recipe with exacting accuracy or adding a little of this and a little of that still imparts their chicken soup with something special. That something is called "love". I am not some over the top touchy-feely mood effects your food type - but chicken soup is one of those add a little love recipes and it becomes your own. Something your kids will beg you for, something your husband will request every Friday night, something you end up making 30 quarts of at a time because it's that popular. OK that last part is probably just me -- I get crazy with bulk cooking sometimes, I can't help it.
I am including here my classic chicken soup recipe because it is a classic for a reason, but it was my first chicken soup recipe and it's great for beginners, but now I spend a little more time and effort and a few more ingredients to achieve the ultimate rich, truly comforting chicken soup.  
CRYSTAL CLEAR CHICKEN SOUP WITH JULIENNED VEGETABLES AND ANGEL HAIR
We all try to be such inventive creative kosher cooks that sometimes we forget about the building blocks of our culinary heritage. With this chicken soup, I do just that, but when you want to riff a bit you can take chicken soup to other worldly places. 
Quick Tips:
1. If you are expecting less guests, you can cut the recipe in half.
2. Don't toss marrow bones used for broth, you can spread them on bread.
3. Use a mandolin or julienne peeler to julienne vegetables.
4.If you don't have the exact vegetables that the recipe requests, just use what you have! Then just sprinkle some freshly chopped herbs of your choice (dill and/or parsley) for taste and color. 
Let's go to Greece with this lemon and rice chicken soup. 
You will love the flavors of this rich and spicy yemenite chicken soup. 
CURRIED CHICKEN SOUP WITH RICE
Go to the far East with the flavors in this chicken soup. 
What's your favorite way to make chicken soup?