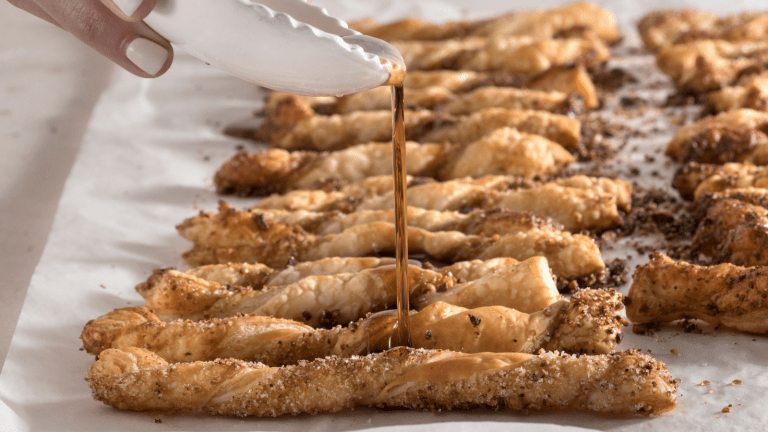 8 Jewish Dessert Hacks Every Lazy Person Needs To Know
Everyone loves desserts, but not everyone loves to potchke in the kitchen.   That's when shortcuts and simple hacks using unexpected ingredients come in handy.  Once you learn these tricks you won't even need the recipes to make quick and easy fool proof desserts any night of the week. 
Lemon Meringue Pie Hamantaschen
Hamantaschen are the classic Jewish cookie known for its triangular shape and filled center.  They are associated with holiday of Purim, but can be eaten any time.  This recipe hack shows you how to take store bought pie dough to make your hamantaschen, no mixing and chilling. Don't limit yourself to lemon filling, any favorite fillings work. 
Rugelach are the Jewsish rolled pastries often filled with chocolate, jams, or cinnamon.  This is another way to use pie dough for a quick and easy cookie creation. 
Baklava is the Middle Eastern phyllo and nut pastry reimagined with puff pastry which is much easier to work with than phyllo. This recipe shows how you can flavor twists of phyllo with nuts and spices of baklava. 
Our doughnut hack is pure genius, just use pizza dough!  Drop balls of dough into a pot of oil, sprinkle with powdered sugar and dessert is done. 
Chocolate Covered Banana and Strawberry Doughnuts
This doughnut is made with pancake mix and served on a stick. 
Cheating Cake Mix Hamantaschen
Ever thought of using cake mix for cookie dough? It works!
These hamantaschen are made from pita and filled 4 different ways from sweet to savory, find your favorite. 
Instead of making a full pie you can make these triangle wontons filled with pumpkin or any of your favorite pie filling, and everyone gets their own. 
Apple pie using puff pastry, an oldie but a goodie.