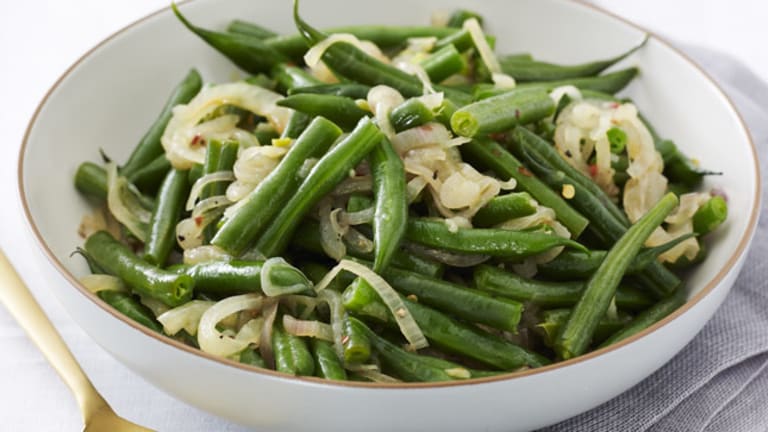 Make a Side of Green Beans
So Tamar and I were talking about side dishes.
Oft overlooked till the last minute when you frantically search for what goes with this thing here that you are making for dinner...
You aint gonna find any starchy sides in this post.  Instead I decided to share my favorite green bean recipes cause that's the one thing in this family that we all agree on.  No checking necessary (point for mommy), kids luhve eating them (point for mommy) by hand (point for kiddies), even when they are dripping with some sorta sticky sauce (point for kiddies) -- or maybe more so when they are dripping with some sorta sticky sauce.  G-d forbid I should cut them... for them...  And if hubby doesn't love what I am doing with them (them of course being these green beans of which I speak) because our palates are farther apart than the north and south poles, I just steam a few handfuls for him (another point for mommy who is also a good wifey).  And you know what -- he actually loves and prefers steamed veggies.  Uch some people are just built to diet, a lot unfair.
My kids always want to know what's my "best color" or what's my "best food".  The answer would be black and avocado-pumpkin-evoo- high quality bittersweet chocolate.  And my "best" green beans are haricots verts, the official French name for these delicious, beans. They are slender, more flavorful, string-less string beans. 
Green Beans are in season in the summer, but you can always pull them out of the freezer any time of year especially in Israel where they are less available fresh.  You want to look out for firm, crisp, brightly colored beans that snap easily.  Haricot Verts are more tender and sweeter than the thick Romano beans (the ones you are used to seeing in the market) and cook quicker so if you are swapping them out in recipes keep a careful eye.  If I plan to rewarm and serve my green beans on Shabbos day then I under cook them to accommodate for the blech.  But another one of the beautiful things about many a green bean recipe is that they also taste great cold and/or at room temp so that pesky hot plate doesn't mess with my stuff.
Some of my favorite Green Bean Recipes:
Green Beans with Walnut and Green Olive Tapenade
This tapenade, can be enjoyed by the spoonful and tossed with your green beans of course.
Baby French String Beans with Slivered Almonds
One of those "kosher" classics.  No my grandma did not make this or pass down any like recipe of the sort but most modern day Shabbos cooks seem to have their own version.  This here is mine and I have been known to finish it off with some extra toasted sesame oil just before serving.
Black Eyed Peas and Green Beans
This fun one's got black eyed peas and a slight kick from chili powder and Tabasco sauce.
And if I had to chose my "best" recipe of the recipes I have listed here would be this one.  What with sautéed shallots, Spanish and red onions and a few sprinkles of red pepper flakes - the only thing that could be better is if these beans were slathered in ice cream.  Okay maybe that's a little too far, but you get my point. 
Pan Charred Green Beans with Harissa and Almonds
What is your favorite way to make green beans? Have you tried any of these recipes?