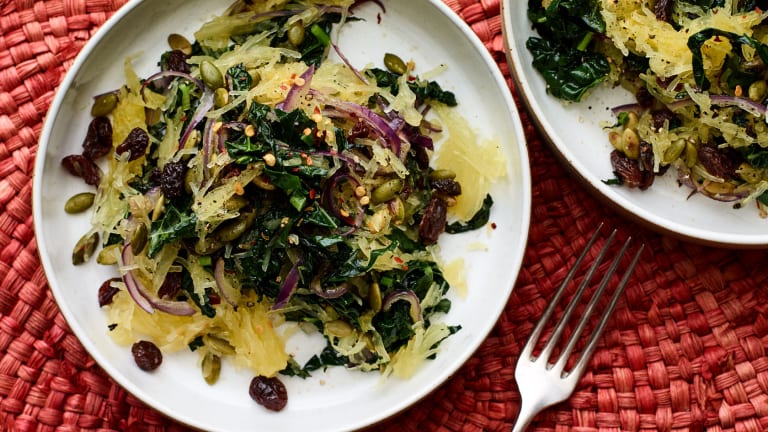 Spaghetti Squash 101 and 10 Recipes
We LOVE spaghetti squash....
Spaghetti squash is one of the most popular searches on our site.  
Why? 
Because it is lower in carbs and lower in calories than traditional pasta, but also easy to make and as versatile as it's higher carb counterpart. It tastes great with traditional Italian flavors, but works amazing in patties and casseroles and even in curries.  
1. What is spaghetti squash?
Spaghetti squash is a mild tasting squash that resembles strands of spaghetti, hence its name. Due to its light flavor and pasta like texture, it is a wonderful vegetable that can stand in place of noodles, providing a healthier alternative to popular carb-loaded recipes like lokshen kugel.
2. What is the best way to prep spaghetti squash?
Cut spaghetti squash in half lengthwise, and scoop out seeds, leaving the flesh intact. Drizzle cut side with 2 tablespoons evoo, and season with salt and pepper. Place cut-side down on prepared baking sheet. Roast in a 375°F oven for 30 to 40 minutes, or until a knife can be inserted with no resistance.
NOTE: You can also cook it in a microwave or boil or steam the squash.
3. How many calories?
About 40 calories a cup, spaghetti squash also contains folic acid, vitamin A, potassium & beta carotene. 
Plus, over the past few years the trend has been all about making vegetables the star. Chefs are whole-roasting celery root, carrots, and beets. Or serving vegetables carpaccio style, like steak or tuna, to fabulous results. In our test kitchens,
we couldn't get enough of the marvels of spaghetti squash. Simple to prep, spaghetti squash can be added to many dishes that call for spaghetti. 
Browse through 10 popular spaghetti squash recipes that will inspire your next meal. 
10 Spaghetti Squash Recipes