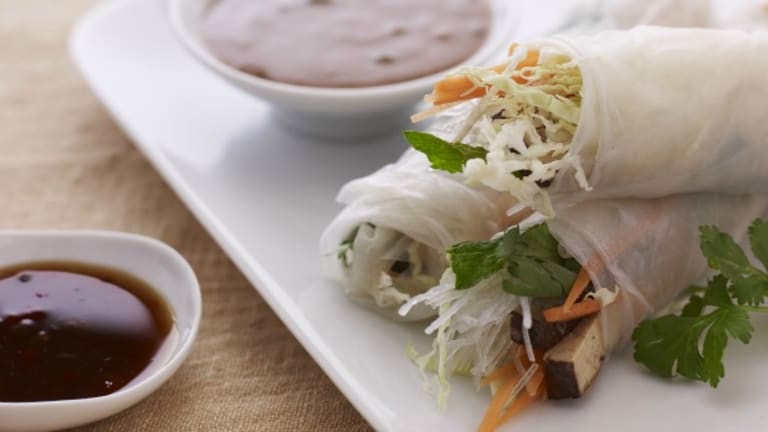 Summer Rolls Recipes
I've always been enamored with the colorful flavors of Southeast Asia. The layers of sweet, salty and spicy inspire so many of the dishes that emerge from my kitchen. Over the past several years, it's become possible to find kosher ingredients to recreate some of the best-loved foods from Thailand and Vietnam. I used to make a regular pilgrimage to the Asian food markets that dot the outer boroughs of New York City and I am constantly amazed at the low prices and variety of fresh produce that are available.
In the summer, when I'm looking beyond soups and stews to satisfy family and friends, I turn my gaze far eastward. In Thailand, Laos, Cambodia and Vietnam, they know how to beat the heat with bright salads, cool fruit drinks, and the Summer Roll.
The Summer Roll is a close relative of the conventional Chinese egg roll, except the Summer Roll is not deep fried and is usually served at room temperature and at only about 120 calories, about half that of an egg roll, is surprisingly filling.
You can fill the rice paper wrap with virtually any shredded or julienned vegetable or fruit and rice vermicelli (think spaghetti made from rice flour). Sliced chicken, beef, or fake crab meat can also be added, but I typically make mine meatless. Smoked or baked tofu is a great way to add protein and keep it pareve as well as seared tuna or salmon.
The spicy peanut sauce we use for dipping is so much more interesting than the cloying sweet and sour sauce we might use for an egg roll or Chinese noodles. Any leftover sauce can be used for dipping chicken nuggets or mixed with lowfat mayonnaise or yogurt for a delightfully different salad dressing.
It takes a little practice to get the amounts just right (don't overstuff), but after a few tries, you'll be on a roll!
Try this recipe and serve with your choice of dipping sauces, really any thick salad dressing would work, but my favorite is this Peanut Sauce and when I want to go a little lighter on the calories I go for Thai Sweet Chili Sauce.
While you can get creative on your own with Summer rolls sometimes it's nice to have more recipes to try. This one is for Rosh Hashanah but can be made any time. 
Mock Crab Summer Rolls with Thai Dipping Sauce
These summer rolls use mock crab meat. 
Beef Spring Rolls with Carrots and Cilantro
These use beef. 
California Asparagus Spring Rolls
And these have vibrant asparagus. 
Let me know if you make your own Summer Rolls and what you put inside.