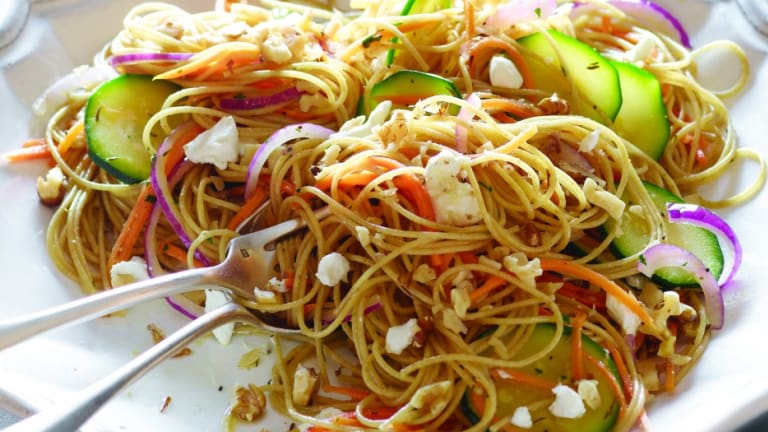 The Good Carbs To Eat To Lose Weight
Jamie loves carbs, but she doesn't know how to eat healthy and lose weight when she eats them. I explain why you don't have to be afraid when you choose the right carbs. 
Our 28 Day JOY of KOSHER Challenge is filled with recipes with the right kind of carbs, but now we have even more recipes and more support for long term healthy eating with our Fresh Families healthy meal plan. 
Fresh Families is your answer to how to get a healthy dinner on the table every night including Shabbat and holidays.  We provide weekly menus and shopping lists that you can modify to fit your own needs and schedules while choosing from hundreds of healthy recipes complete with nutrition information. 
Sign up to join our family today!
Carbs.
Crusty bread, bagels, pretzels, pizza, rice, pasta, potatoes, corn... some of our favorite things! Sadly, many of these food favorites have become taboo — mostly due to misinformation or in today's parlance... fake news!
We know it can be confusing, but you may have noticed we do not shy away from carbs on this meal plan. After all, carbohydrates are an essential nutrient our bodies need. They are actually one of the main sources of energy that keeps you going all day.
The confusion comes into play because there are many types of carbs and while some are essential, some are bad for us. The other issue is that carbs, especially those that come in bags and are covered in salt (I'm looking at you Pringles) or sugar (Oreo-no!) are really easy to overeat.
The truth is, carbs should be part of a well balanced diet for you and your kids.
Here are our carb commandments:
1. White Flight. When you make sure most of your carbs come from dark, whole grains, you get added nutrients as well as fiber which fills you up and keeps you full longer, making it harder to overeat.
2. Progress Not Process. Processed foods are scientifically created to make you want more. We got rid of highly processed, factory food in Fresh Start, but sometimes it's good to have a reminder.
3. Very Veggie. When we do eat high carb foods try and include lots of veggies to help keep your portions in check.
Get tips like these every week plus access to tons of healthy focused recipes when you sign up for Fresh Families here. 
While we're waiting, here are a few recipes featuring only the good kind of carbs we spoke about above.  Now you can enJOY your favorite foods and still maintain a healthy diet along with everyone in your family. No need to cook something different for everyone, you can all eat healthy together.  
9 Recipes Celebrating Good Carbs