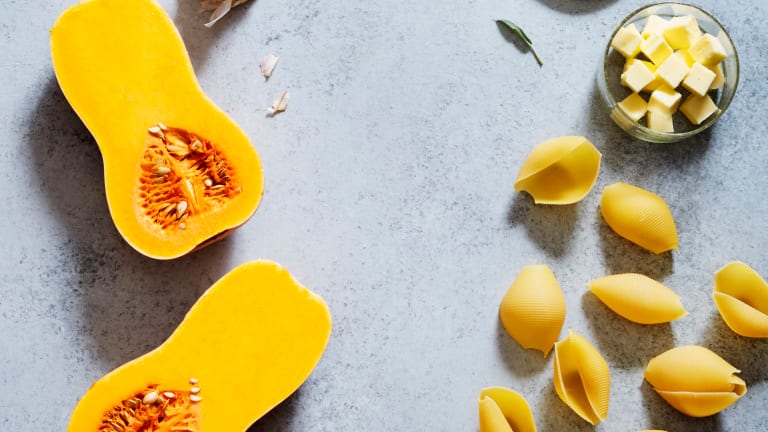 Cooking in Season: Winter Squash
Winter squash comes in many varieties, with names that run the gamut from the sublime to the ridiculous. Today, you can find butternut squash, acorn squash, delicata squash, hubbard squash, kabocha squash (pronounced kuh-BOW-tcha), heirloom and roasting pumpkins (I'm not making this up), sugar pie and sweet pumpkins, spaghetti squash, turban squash, and tichel squash (just kidding on that last one).
Thick, tough shells protect the sweet, rich flesh inside winter squash, which makes them excellent storage vegetables, if you're inclined to store.  Don't be fooled by that frosty name "winter squash" either. The season starts late summer and runs through mid-winter, and some are even available year-round.
The queen of them all is butternut squash (in my humble opinion) because its sweet flesh is thick, moist, has very few seeds, and it's easy to peel. It roasts and sautés quickly, and mashes and purees smoothly (perfect for soup) -- which is more than I can say for most veggies.
As if that's not enough, it's also good for you. Butternut squash delivers an ample dose of dietary fiber, and it has significant amounts of potassium (for bone heath). It's high in vitamin B6, (for the nervous and immune systems) and beta-carotene (which your body converts to vitamin A). With only a 1-cup serving you get nearly half the recommended daily dose of antioxidant-rich vitamin C.
It will protect you too. Because of its high antioxidant content, it has tremendous anti-inflammatory effects, which could help reduce risk of inflammation-related disorders such as rheumatoid arthritis and asthma, and its carotenoids protect against heart disease.
There is no truth to the rumor that butternut squash will turn your hair a gorgeous shade of blond, nor can it program your new phone.
But it can make many delicious dishes.  Thank G-d for small blessings like butternut squash.
Squash lovers, try these recipes too: 
Butternut Squash Recipes